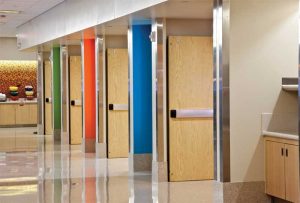 By Lori Greene, DAHC/CDC, CCPR, FDAI, FDHI
A fire at an apartment building in Bronx, New York, earlier this year drew attention to the impact of non-code-compliant fire door assemblies in multifamily residential properties. IT began in an apartment when an electric space heater ignited a mattress nearby. Although the fire was contained to the apartment of origin, at least two fire doors were open when IT occurred—the entrance door to the apartment, and a stairwell door on an upper floor. According to investigators, these open doors allowed smoke to spread throughout the high-rise building. Seventeen people died—including eight children—and 44 people suffered injuries.
Fires in multifamily residential buildings are not uncommon. According to an October 2021 report by the National Fire Protection Association (NFPA), an estimated 86,000 fires occurred in apartment buildings in the U.S. in 2020. NFPA's research shows these fires caused 350 civilian deaths, 2900 civilian injuries, and $1.6 billion in property damage. An average of 86,000 apartment fires in one year equates to around 235 fires per day in U.S. apartment buildings.
Current codes help to ensure apartment residents are protected from these fires which occur so frequently. In most states, the adopted building codes require multifamily residential buildings to have both active and passive fire protection. The International Building Code (IBC) requires automatic fire sprinkler systems, a type of active fire protection, for these residential occupancies, although they are not required for all existing apartment buildings.
Walls designed to deter the spread of fire, and opening protectives (fire door assemblies) are part of a building's passive fire protection system. As per the IBC, corridor walls in residential occupancies are required to be fire-resistance-rated when the corridor is serving an occupant load of more than 10 people and exit stairwells must be surrounded by fire-rated enclosures. In addition, fire partitions are required to separate each apartment from the next.
The walls between apartments, along the corridors and surrounding the stairwells, serve an important purpose. They are designed to compartmentalize the building, slowing the spread of smoke and flames. They also enclose the corridors and stairwells to give building occupants safe escape routes. Door openings in these walls are protected by fire door assemblies, which include a fire door, a frame, and hardware which have been tested and certified to withstand fire for a certain length of time. Without these assemblies, also known as opening protectives, the walls cannot do their job.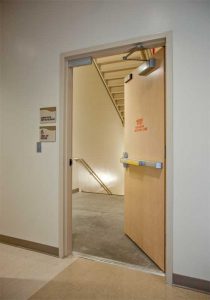 The fire that occurred in January 2022 was one of many fires in multifamily residential buildings where fire doors were left open. After another Bronx, New York, apartment fire in 2017 killed 13 people and injured 14, New York City enacted Local Law 111, which requires all interior apartment entry doors to be self-closing—even if the doors pre-date the requirement for fire door assemblies. Also in 2017, the fire at Grenfell Tower in the U.K. resulted in 72 fatalities.  During the inquiry into this incident, it was revealed most of the self-closing doors were not functioning properly the night of the fire, allowing smoke and flames to spread.
In 2019, a fire in a Minneapolis, Minnesota, high-rise apartment building resulted in five fatalities. The Minnesota State Fire Marshal's report stated, "Had the door between the corridor and apartment been able to close, it is the State Fire Marshal Division's (SFMD's) opinion the fire would have been contained to the apartment of origin and the loss of life would have been reduced and possibly only involved the occupant of that apartment."