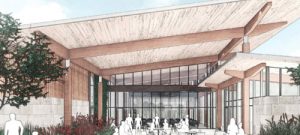 In envisioning two new branch buildings in Fredericksburg, Texas, and in Shawnee, Oklahoma, First United Bank wanted structures that aligned with their sustainability initiative. Global architecture firm Gensler responded with an innovative design and building materials.
"First United wanted buildings that really showed how they were built and related to their customer base," said Taylor Coleman, Gensler project architect. "Using mass timber was the best way to accomplish those goals."
The buildings are the first timber structures designed by Gensler.
Gensler and contractor Kendnel Kasper Construction, Inc. have recruited local builders in Texas who have experience adding mass timber to construction.
In addition to cross-laminated timber (CLT) panels for the roof, the 790-m2 (8500-sf) design for the Texas structure includes glued-laminated (glulam) columns and beams. Southern yellow pine, available locally, was used for the glulam beams to add color and for the striking contrast in the grain of the wood.
The Oklahoma branch is built with Douglas-fir glulam and CLT. The 1161-m2 (12,500-sf) branch will be completed in October.
The plans delivered a net-zero structure with solar panels and a rainwater collection system. Coleman estimates the system on the Texas branch will collect over 946 million L (250 million gal) in runoff annually—enough rainwater to satisfy the water needs for the branch's native plant landscaping.
The enhanced building envelope and high-efficiency HVAC systems also provide 42 percent improvement of code requirements.