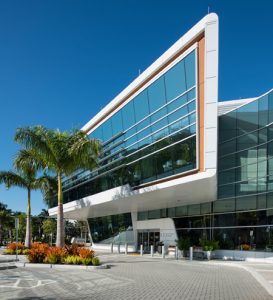 Architects Gresham Smith & Partners designed the University of Miami (UM) Bascom Palmer Eye Institute to stand out as a 21st century ophthalmic center, encouraging a balance of performance and aesthetic flair.
Bascom Palmer purchased a 0.61-ha (1.5-acre) site on a busy corner in upscale Naples, Florida, to construct the 1858 m2 (20,000 sf) eye care center.
The institute was designed with Florida temperature and weather in mind. Insulated metal panels (IMPs) were used to protect doctors and patients from the scorching sun and minimize warm airflow within.
Hurricanes and powerful storms were also a strong consideration for architects. Panels used in the construction form a protective shell from storm winds and flying debris with its durability.
The coating provides resistance to weathering and fading from repeated exposure to rain and saltwater. Each panel is equipped with insulated metal vertical (IMV) joints to further protect from thermal and water penetration without sacrificing aesthetic appeal.
As an eye care facility, visual appeal was important to the design. The facility had to accommodate an increased number of occupants and provide a bright, positive atmosphere. Designers enhanced the modern aesthetic with integrated 51 mm (2-in.) and 76 mm (3-in) IMPs, simulating recessed windows and creating a multi-planed accent wall. With a regal white finish, the panels provide an aesthetic complementing contemporary architecture.
The $25 million Leadership in Energy and Environmental Design (LEED)-certified project was completed in 2015.