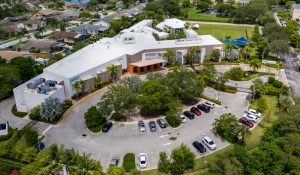 The façade restoration of the Jewish Adoption and Foster Care Options (JAFCO) Children's Ability Center, a place for disadvantaged children in Sunrise, Florida, has won a PaintSquare Elevation Award in the Renovation/Retrofit category. The award recognized the outstanding use of coatings to enhance the appeal of a building renovation or retrofit, in terms of both aesthetics and functionality. High-performance architectural coatings were used on the building to achieve its design goals.
Coating contractor Restore Construction Group used a field-applied, high-performance architectural coating, engineered specifically for porous or flexible building materials, to give the two-story, 3995-m2 (43,000-sf) facility a fresh, welcoming new look and extend the structure's service life by 30 years.
"After only five years of exposure in the intense heat, humidity, salt air, and harsh sunlight of South Florida, the Children's Ability Center showed signs of wear and tear," said Norge Arnaiz, principal of Restore Construction Group. "The colorful stucco façade, originally painted with an acrylic-based coating, significantly faded, chalked, and deteriorated."
The façade restoration coatings with polyvinylidene fluoride (PVDF) resin is a low-volatile organic compound (VOC), water-based, field-applied coating system that provides a superior factory-like finish. Its advanced formulation is engineered for extreme ultraviolet (UV) protection as well as resistance to algae, fungal growth, abrasion, dirt pickup, and stains. The coatings manufacturer also offered a 15-year, transferrable product-and-labor warranty to the building owner. The warranty covers color fading and chalking, guaranteeing the coatings will dramatically outperform other field-applied, high-performance coatings, even in extreme environments.
"Our intent was to be budget-conscious while providing a long-lasting, beautiful aesthetic," said Michael Moran, facilities director at JAFCO. "The high-performance coating will not only retain its vibrant colorful appeal for a very long time, but also provide significant cost savings by not having to repaint the facility every five years, which is a typical coating life cycle in Florida."