Free e-book looks at stainless steel restoration
by nithya_caleb | April 26, 2019 1:40 pm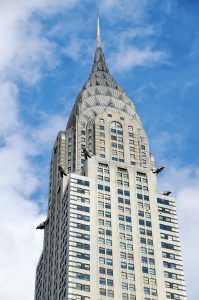 With appropriate specification, stainless steel can last the life of a building. However, as with any other material, unsightly surface deposits can accumulate after many years of service. Accidents, vandalism, use of inappropriate cleaning procedures, and installation issues can make surfaces unsightly, cause damage, or even lead to rapid surface corrosion. Surface restoration is often possible with the right remediation approach.
Since its invention over a century ago, stainless steel's durable beauty has been repeatedly demonstrated. In the mid-1990s, more than 30 years of dirt, hydrocarbons, and other deposits had blackened the iconic upper floors of New York's Chrysler and Empire State buildings, but simple cleaning with products commonly found in household kitchens returned them to their original appearance.
The inherent corrosion resistance of stainless steel often makes it possible to restore surfaces after years of neglect when other materials may have suffered too much deterioration to make that feasible.
In the latest edition of a series of free, downloadable e-books, an article from the pages of The Construction Specifier seeks to explain how with appropriate procedures and products, stainless steel can stand the test of time. To get your copy, visit www.constructionspecifier.com/ebook/new-millennium-building-with-steel-e-book[2].
Endnotes:
[Image]: https://www.constructionspecifier.com/wp-content/uploads/2019/04/bigstock-Chrysler-building-84073106.jpg
www.constructionspecifier.com/ebook/new-millennium-building-with-steel-e-book: http://www.constructionspecifier.com/ebook/new-millennium-building-with-steel-e-book
Source URL: https://www.constructionspecifier.com/free-e-book-looks-at-stainless-steel-restoration/
---