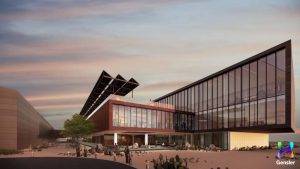 Global architecture firm Gensler has been retained to design a state-of-the-art manufacturing facility for air handling company XNRGY in Greater Phoenix, Arizona.
The new, multi-phased 92,903 m2 (1 million sf) plant and workplace will serve as XNRGY's U.S. headquarters. It will target LEED certification through design strategies which focus on embodied carbon and water conservation.
This new facility will focus on research and development, facilitating the growth and demand for XNRGY's mission-critical climate systems. Applying vertical integration and full automation and eliminating supply chain delays will expedite the company's product delivery and reduce product lead times compared to the industry average.
"XNRGY is a transformational company changing the trajectory of an entire market, integrating sustainability to create immeasurable impact in Arizona and the world," said Martha Abbott, managing principal at Gensler. "We are honored to be partnered with a company whose vision and values are aligned to ours around the future of the built environment."
Construction will begin in June 2022. The initial phase is scheduled for completion in the first quarter of 2023. It consists of 23,226 m2 (250,000 sf) of Class 100,000 cleanroom production facilities.
All construction phases are projected to be completed by June 2025.