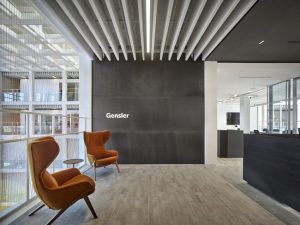 Global architecture, design, and planning firm, Gensler, selected stone wool ceiling systems to optimize acoustics for its new Tampa (Florida) location. The firm's unique workspace spans two floors and 808 m2 (8702 sf) of the renovated Rivergate Tower, doubling the square footage of the firm's previous Tampa location. Flexibility and collaboration were its guiding goals for its Tampa open office concept.
An adaptive re-use project, Rivergate Tower features a six-story lobby at its core. Renovating an existing space with a full-height open center posed acoustic challenges for the design team.
To optimize acoustics for Gensler's Tampa office, acoustic stone wool ceiling baffles were used for shared spaces. These include the main reception area, the interior hallways near the open lobby, the staff cafeteria and kitchen, the workstation zone, and the small group meeting areas.
"As sound waves travel from the office areas toward the open core, the energy gets attenuated greatly by the baffles. Each baffle absorbs a little bit of the wave. By the time the wave reaches the open core, it has been attenuated enough so that it cannot be heard on other floors or on the other side across the open core. Baffles decrease the distraction distance so fewer people are taken off-task or annoyed by noises," said Gary Madaras, PhD, acoustic specialist.
While those in enclosed offices and meeting spaces are less likely to experience interruptions, sound-absorbing stone wool ceiling panels were used to further optimize acoustics.
Acousti Engineering Company of Florida installed the stone wool baffles and panels, as well as the metal ceiling grid to support the panels. The crew also relied on ceiling perimeter trim to provide a neat, crisp edge. Enhancing this clean, bright appearance, white was the color of choice for the visible ceiling materials. In addition to the modern aesthetic, the white finish reflects and diffuses the natural light throughout Gensler's offices.