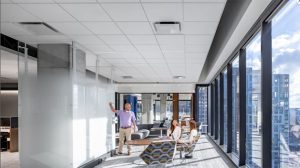 The Anthem Technology Center's new Leadership in Energy and Environmental Design (LEED) Silver-certified, Class A, office tower in Midtown, Atlanta, Georgia, is a hub for 3000 professionals creating new capabilities to enhance the consumer health care experience. The design team used ceiling systems to meet the aesthetic, acoustic, and sustainability goals of the office building.
The 32,702-m2 (352,000-sf) office is developed by Portman Holdings, the building's exterior was designed by Portman Architects, and its interiors by Nelson Architects. The design team selected ceiling systems as the basis of design for most of Anthem's office ceilings. The combination of stone wool panels with metal suspension grid and perimeter trim provided the design flexibility, acoustic optimization, and sustainable attributes required for a high-tech, collaborative setting.
The 21-story office tower's interior design encourages employee wellness and impromptu interactions. A double-height central atrium with staircase connects every two levels. Informal gathering areas and formal conference rooms promote group collaboration within the largely open floorplan. Amenities are provided on the eighth and 16th floors.
Adding to the interiors' openness, the office ceiling designs appear to float above the spacious floorplans. The stone wool ceiling panels feature a lightly textured, white surface, conveying the desired appearance. The 14-mm (9/16-in.) exposed Chicago metallic suspension system defines the visible grid pattern and showcases the square tegular narrow edge profile. Enhancing the sense of buoyancy, the ceiling system is framed in 102-mm (4-in.) perimeter trim.
Respecting the variety of individual workstyles and tasks, private offices and quiet nooks designate separate areas for concentration and one-on-one conversations. Optimized acoustics were an important consideration for this interconnected office environment. Nelson and acoustician Newcomb & Boyd guided acoustic performance requirements throughout the interiors.
To ensure the best sound experience and productive workspace for Anthem's associates, a sound-absorbing ceiling system with a high noise reduction coefficient (NRC) was specified. The acoustic stone wool ceiling panels used in the project deliver a high NRC of 0.95.
"Many acoustic standards require or recommend ceilings be minimum NRC 0.90. In group workspaces, where people are talking and noise levels and distractions are potentially high, a ceiling NRC over 0.90 is very important," said Gary Madaras, PhD, acoustic specialist with the manufacturing company.
"High sound absorption overhead in open spaces helps control the ambient noise, increase speech privacy, and decrease the number of people that are distracted by transient noises," Madaras said. "In enclosed rooms, it prevents excessive reverberance. This increases speech intelligibility."
Acoustic comfort is an essential characteristic in designing spaces supporting wellness, health, and sustainability. In December 2020, Anthem Technology Center received a Silver certification for LEED v4 Building Design +C: Core and Shell. Certification also is in progress for LEED v4 ID+C: Commercial Interiors.
Along with acoustic performance, the ceiling systems support sustainability by maximizing the Atlanta sunshine radiating through the floor-to-ceiling windows with views overlooking the city. The panels' white surface reflects up to 85 percent of light, extending the daylight more deeply into the office's core. Relying on more natural light reduces the building's electrical and HVAC loads, energy use, and the associated emissions and costs.
Supplementing Anthem Technology Center's natural lighting, the manufacturing company worked closely with the ceiling design and installation team to accommodate 220 light-emitting diode (LED) fixtures. These continuous flush-mounted, linear fixtures ranged in length from 1 to 8 m (4 to 26 ft).
The ceilings conceal the electrical, security, and air exchange systems. Contributing to healthy indoor air quality (IAQ) and LEED criteria, the acoustic stone wool ceiling panels are Greenguard Gold-certified for low volatile organic compound (VOC) emission. Both the panels and the metal suspension system are manufactured with recycled content and are inherently resistant to mold, mildew, or other potentially harmful microorganisms.