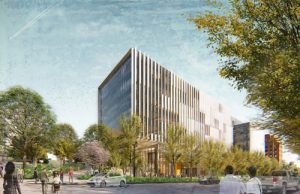 University of Washington's Population Health Facility (PHF) in Seattle establishes a new type of venue for interdisciplinary collaboration and innovation. The new building seeks to advance the university's health initiative through an idea laboratory and collaboration incubator.
Tucked into a sloping site along the western edge of the university's central campus, the building will open to the neighborhood and the university via entry points on each façade. A multistory, street-level foyer wrapped in glass will adjoin an open terraced passageway that works its way through the building, further integrating it with campus circulation.
The 26,941-m2 (290,000-sf) building is envisioned as a hybrid facility.
Floors three through eight will be dedicated to research, with a variety of office types including open work stations, group work areas, conference and instructional spaces, and computer labs—all derived from a set of four activity-based, scaleable modules. Reflecting changes in headcount and activity, the modules are designed to morph in size and function with furnishings helping to define each space. Research floors will eschew typical corridors and employ periodically spaced open nodes where tenants can come together for interdisciplinary collaboration.
The expressive west side of the building will be composed of 1-m (3-ft) deep vertical glass fins to create a dynamic façade facing the university's future innovation district. The fins will vary in overall length to modulate the massing of the concrete-framed building, while also minimizing heat gain and glare and maximizing lighting and views.
The north and south ends of the building highlight user collaboration, offering framed, unobstructed glimpses into the interior. The east side of the building will feature subtle, 203-mm (8-in.) deep aluminum fins, providing continuity with the west side of the building while responding to its specific environmental conditions and solar load. Stacked basalt will wrap the building's lower level. Circulation towers will be constructed using precast concrete panels.
Led by design-build collaborators Miller Hull and Lease Crutcher Lewis, the project is being developed using an integrated design-build (IDB) delivery method, a process that encourages teams to embrace elements of integrated project delivery as well as lean design and construction—techniques developed to create efficiency while maximizing value and minimizing waste.
The facility is targeting Leadership in Energy and Environmental Design (LEED) Gold certification and Fitwel certification. Construction completion is expected for 2020.