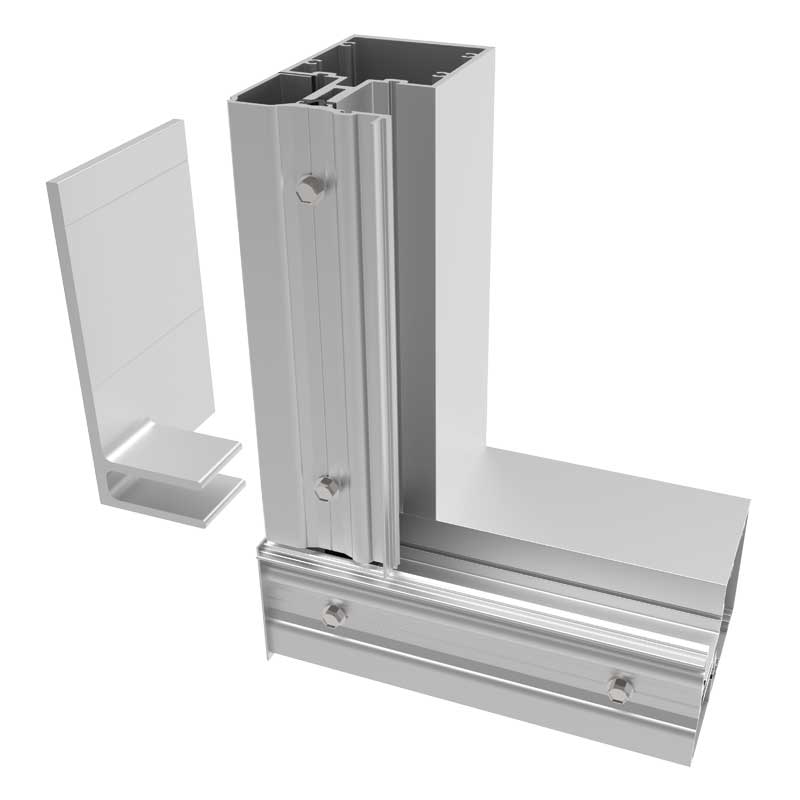 Unitization in action
The recently completed historic Troubadour Hotel in New Orleans provides an example of a unitized project. The 184-room luxury boutique hotel sits in the Central Business District in the heart of New Orleans. Formerly a 17-story office building, it was the site of a deadly fire in 1972. A quite extensive renovation was required to restore the hotel, and it was initially envisioned as a stick-built project.
The design team soon discovered the concrete was heavily laden with rebar, which was common to the era, and would have slowed installation. Glazing contractor DeGeorge Glass led the team to an innovative, pre-glazed solution. The curtain wall was installed into the new metal stud walls via modified F anchors (Figure 3), which slide into the curtain wall as usual, but have a wider leg to allow it to function more like a strap anchor. This enabled pre-glazing and facilitated extremely fast installation, which reduced congestion on the jobsite.
Conclusion
Given the current state and predicted future of the construction industry, unitization is here to stay and will continue to evolve into new and different project applications. There are many factors to consider before specifying a project as unitized. Having an awareness of the core considerations means when looking at the building envelope, one can determine whether to specify stick-built or unitized.
Greg Galloway is a brand manager for YKK AP America. He started his career in manufacturing and was an ASQ Certified Quality Engineer before transitioning into marketing. Galloway has more than 30 years of experience in residential and commercial fenestration with accomplishments in strategic business planning, market intelligence, and brand and product management. He has been active in the design, building, and marketing of hurricane impact and blast mitigation products. Galloway also currently serves on the Southeast American Architectural Manufacturers Association's (AAMA's) technical committee and board of directors. He can be reached via e-mail at greggalloway@ykkap.com.