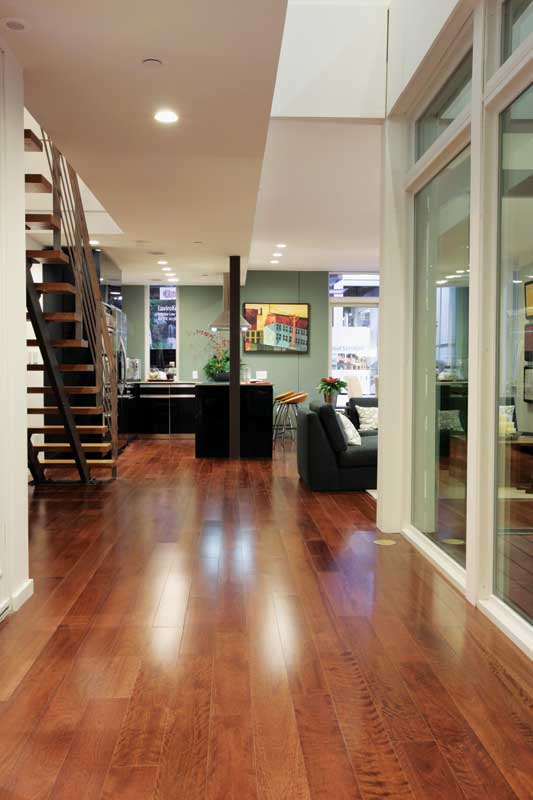 by Eric Anderson
When specifying wood floorcoverings in commercial buildings, considerations include facility type, specie, durability, design goals, and budget. For design teams not willing to settle for a 'lookalike' synthetic product, a starting point is deciding whether to specify solid-strip or engineered wood flooring.
Hardwood flooring can be a timeless addition to interior commercial spaces, conveying design expressions and sensory properties few flooring products emulate. It is available to building and design teams in two forms—solid and engineered.
Solid-strip wood flooring refers to solid hardwood planks. Comparatively, engineered wood planks are typically constructed from three or more layers of solid wood pressed together in a cross-ply pattern. A hardwood wear layer tops the underlayers for a finished look resembling solid wood flooring.
Although similar in appearance, solid and engineered wood flooring provide different performance and design advantages depending on where the floor is being used. Examining the basic properties of each flooring type can help ensure the specified product properly functions for its application, offering decades of service, while aiding in lowering costs. Due diligence with manufacturers and suppliers is important when verifying the selected flooring meets performance, design, and cost expectations.
Subfloor compatibility  
A key distinction between solid and engineered wood flooring is subfloor compatibility. Solid wood flooring is suitable for installation over plywood, oriented strandboard (OSB), and other wood substrates at or above ground level. Best practices include nailing floor planks to the wood substrate as per National Wood Floor Association (NWFA) guidelines, positioning the finished flooring at right angles to the joists, and working from several boxes of flooring strips to ensure color consistency.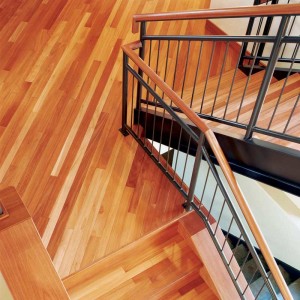 Engineered wood flooring provides building and design teams with greater flexibility. Its stable core helps protect against excessive expansion and contraction from changes in temperature, moisture, and humidity. This enables installation over a wide array of subfloor systems, including:
wood substrates;
subfloors in below-grade spaces;
areas with radiant heat;
concrete slabs; and
existing floors.
When specifying engineered wood flooring, appropriate subfloor preparation helps ensure the best overall result. For example, areas with radiant heat must include a working humidification system and be checked for sections of excessive heat. Similarly, incorporating an approved substrate underlayment over concrete slabs can minimize dust, reduce moisture seepage, and prevent squeaks in dry seasons.
For applications where it is desirable to float-down engineered wood flooring (i.e. planks are locked or snapped together but not directly attached to the subfloor), it is important to consider whether the tongue-and-groove locking system necessitates an adhesive to glue the boards together. Given that floating systems rest on the substrate without nails or glue fastening the wood surface to the subfloor, the floorcovering is susceptible to shifting with moisture changes.
Adhesives can play an important role in preventing joint separation during this process. Best practices include using low- or no-water content adhesives and applying a bead of glue in a plank's groove before inserting the tongue of the next board.
Regardless of the subfloor material, it is critical to ensure the substrate is dry, flat, and sound. Moisture intrusion can result in cupping, swelling, and splitting, while an insufficiently smooth subfloor can lead to hollow spots, gaps, and uneven wear. Details for acceptable subfloor requirements are available in manufacturer guidelines, as well as in NWFA's Installation Guidelines.
Location considerations
Location often impacts a floor's performance criteria. As such, evaluating the effects of environmental factors on solid and engineered flooring is critical to narrowing down an appropriate product. Important location considerations include:
exposure to moisture;
foot traffic; and
proximity to a building entrance.