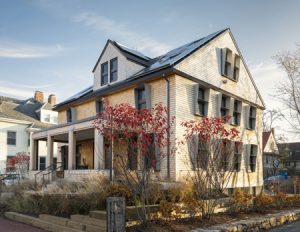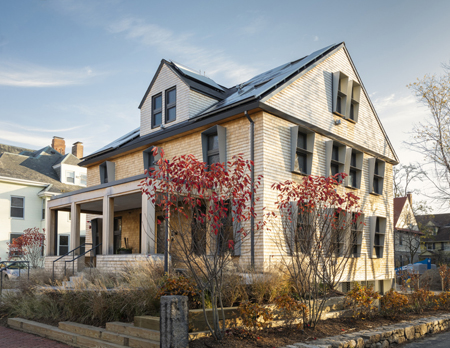 The HouseZero lab at the Harvard Graduate School of Design (GSD) was completed earlier this month in Cambridge, Massachusetts. SnøhSnøhetta and Skanska Teknikk retrofitted the headquarters of the Harvard Center for Green Buildings and Cities (CGBC), a pre-1940s building, into a living laboratory and an energy-positive prototype for ultra-efficiency.
The design of HouseZero includes nearly zero energy for heating and cooling, zero electric lighting during the day, operating with 100 percent natural ventilation, and producing zero carbon emissions. The building is intended to produce more energy over its lifetime than was used to renovate it and throughout its operation.
According to CGBC, the data-driven infrastructure will enable cutting-edge research, and aim to shift the design and operation of buildings. Rather than approaching the building as a 'sealed box,' the building envelope and materials of HouseZero were designed to interact with the seasons and the exterior environment in a more natural way. The building will adjust itself constantly to reach thermal comfort for its occupants.
Leveraging HouseZero as both a workspace and research tool, CGBC will use millions of data points from hundreds of sensors embedded within each component of the lab to continually monitor its performance. This sensory data will provide Harvard's researchers with an understanding of complex building behavior.
"Harvard HouseZero is an extraordinary physical example of efficiency and transformative design," said Mohsen Mostafavi, dean of Harvard GSD. "As a living laboratory, it equips Harvard students and researchers with an unparalleled, innovative infrastructure for exploration and research as they design the next generation of sustainable buildings and cities around the world."