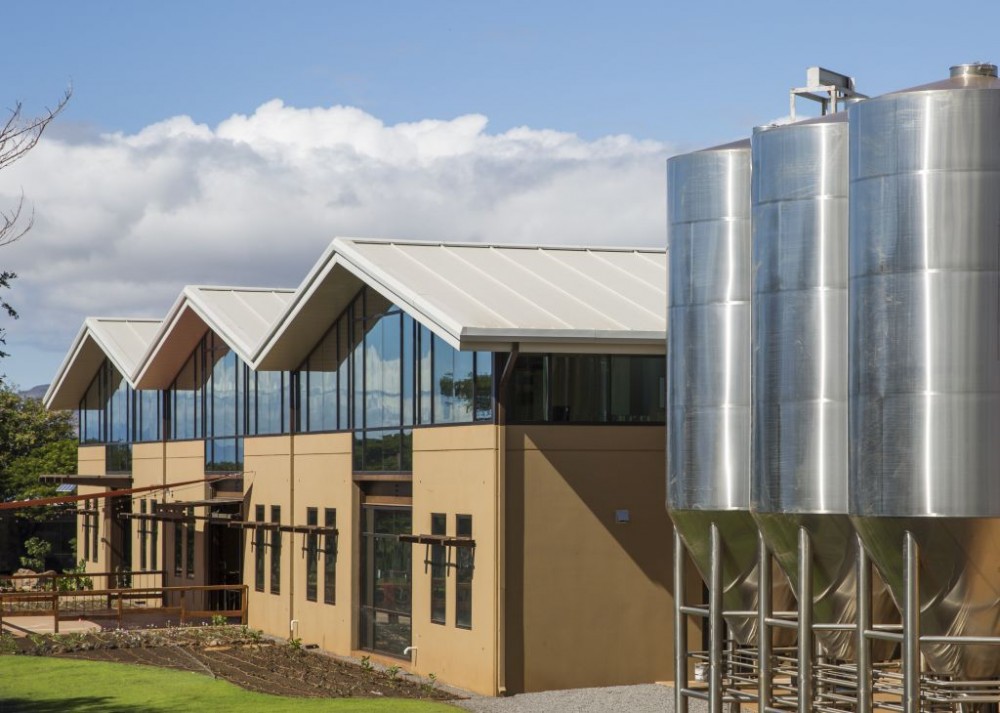 by Eric Jurus
Touted as "Hawaii's number-one craft beer," the award-winning Maui Brewing Company has expanded to a 3900-m2 (42,000-sf) insulated metal panel (IMP)-clad facility to meet an overwhelming demand. After nearly a decade of brewing, the company required a more energy-efficient, sustainable facility to stay consistent with its brand.
Opened in 2005, the company has always taken pride in its beer being locally made—even cans and labels have a Maui presence as local artists contribute to designs. This idea carried over with the design and development of the new facility. The brewery's design provided a modern take on traditional Hawaiian architecture and an insulated standing seam roof system was an integral part of the desired look and limited environmental impact.
The roof panels allowed installers to trim-to-fit as the system navigated valley gutters, and even a roof cricket, across multiple level changes and high-to-low peaks. With various pieces of equipment (e.g. HVAC units and exhausts) needing to penetrate the roof, the owner found the specified assembly made sealing around these protrusions simple.
Maui Brewing Company wanted to show its energy efficiency and limit its carbon footprint; sustainability is evidenced by the solar-powered lights and electric vehicle chargers located in the parking lot. In order to meet the company's green expectations, interior and exterior insulated metal panels were used because of their high R-value, which reduces thermal bridging and creates an effective thermal envelope.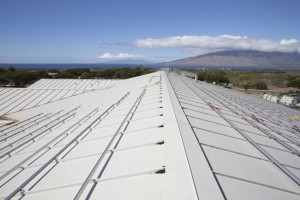 Another reason IMPs were used is they lend themselves well to the company's future needs. The brewery kept 0.4 ha (1 acre) of property free for future expansion and the interior and exterior panels were incorporated because they are easier to remove than concrete walls and metal roofing. They also contain a substantial amount of recycled content, and the panels themselves are recyclable.
Since the design is a multi-faceted facility including a brewpub, retail shop, offices, and production brewery, aesthetics and quick construction times were important factors.
"Over 3716 m2 (40,000 sf) was installed with gutters and downspouts in 3.5 weeks, which helped us gain back lost time on the schedule," said Maui Brewing Company founder, Garrett Marrero.
Speed of construction is important in any industry, but as Maui Brewing continues to grow, eliminating delays was vital. As evidenced from a recent partnership as the official craft beer of Hawaiian Airlines, and growing international distribution, the company will need a new facility to meet those demands. The facility is now projected to double its current production capacity.
Eric Jurus, Regional Sales Manager with Kingspan Insulated Panels, manages the Southwestern states of California, Arizona, Nevada, and Hawaii and has been with Kingspan for over 10 years. He is originally from Chicago, Illinois and prior to Kingspan was in the metals industry involved with processing, coating, and management of metal coil products. Jurus moved to California in early 2004 to be a part of insulated wall and roof panel product sales and enjoys representing the world leader in insulated metal panels, Kingspan. He can be contacted at eric.jurus@kingspan.com.