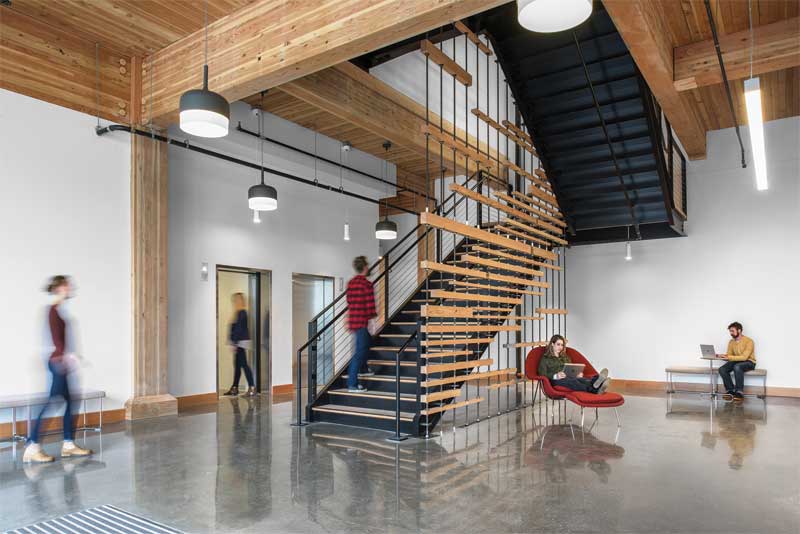 by Rich Mitchell, Josh McDowell, and Dietrich Wieland
The Pacific Northwest is the site for a renaissance in heavy timber construction that is now beginning to spread across the country. Wood, instead of steel, is being used to construct modern, multistory, and creative office buildings. This article explores the context for this trend, the motivations behind adopting a century-old construction approach, and what constitutes modern heavy timber.
First though, a few definitions—the term 'heavy timber' has been around for centuries, and commonly refers to a building made up of large wood beams and columns. Mass timber refers to a system using one or more of a few structural materials—glued-laminated timber (glulam), cross-laminated timber (CLT), or nail-laminated timber (NLT). Glulam has been used in the United States for more than 80 years and is very common. CLT is a large, prefabricated member made up of layers of framing-lumber laminated perpendicular to one another on their wide faces. This technique has been around for decades in Europe, and is now gaining traction in the United States. An alternate to CLT, NLT is fabricated in-place using framing-lumber and nails. A common floor structure in historic wood-framed warehouses, this system can support relatively large loads.
There is a set of interlocking reasons behind the rise in heavy timber construction. With advances in wood technology, and an innovative approach leveraging the structural system for uses beyond its basic function, heavy timber results in structurally resilient, sustainable, and budget-friendly buildings. It also supports a healthy work environment, which is connected to nature. On top of this, heavy timber buildings represent an authentic continuation of historic building practices—a qualitative but very valuable element for many modern tenants.
Once the decision has been made to use a heavy timber system, the architect, engineer, and contractor must then work together to address a series of design considerations, including fire rating, seismic code, and logistics.
To explore the growth of heavy timber construction, one must first understand the motivations for using the system, and then the technical considerations required for a successful project.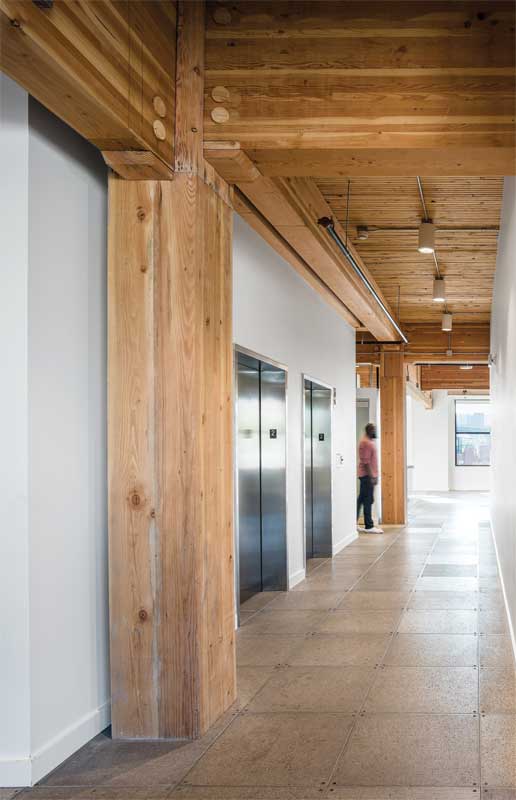 Motivations
Several complementary themes influence the rising trend in heavy timber construction. In the authors' experience, there exist three major motivating factors—response to context, sustainability and work environment, and the economics of a project that pencils out. These factors are interrelated, with aspects in each affecting the delivery of the rest.
Response to context
Heavy timber buildings can provide a compelling contextual response to a project's environment, particularly where local building traditions historically employed a wood vernacular. Two contrasting approaches include the Clay Creative building in Portland, Oregon, and the Hudson building in Vancouver, Washington.
Clay Creative, a six-story, 8361-m2 (90,000-sf) office building, is located in the heart of Portland's Central Eastside Industrial District. The creation of a contemporary reflection of the district's historical building style—with exterior masonry walls, wood column, floor, and roof structures—was one of the project's primary design drivers. As a nod to these historical traditions, Clay Creative opted to incorporate 50 x 152-mm (2 x 6-in.) on-edge NLT decking as the primary floor structure over glulam columns and beams. The perimeter structure shifts to structural steel to accommodate the loads of masonry veneer, and to handle seismic loads without sacrificing window openings around the entire exterior. This approach merged the historical traditions of floor construction with the modern technology of laminated timber and steel systems.
In contrast, the Hudson is located within Vancouver's downtown historic district where new buildings are encouraged to respond to historical context. Although similar to Clay Creative, this three-story, 4181-m2 (45,000-sf) commercial office building takes things a step further by emulating traditional building techniques with a historically authentic design. It uses on-edge NLT decking and glulam columns and beams. The masonry veneer and structural steel are replaced entirely with structural clay masonry in the exterior walls, which act as a lateral force-resisting system. This combination of heavy timber and structural brick is both aesthetically and functionally reflective of Vancouver's built-environment history.