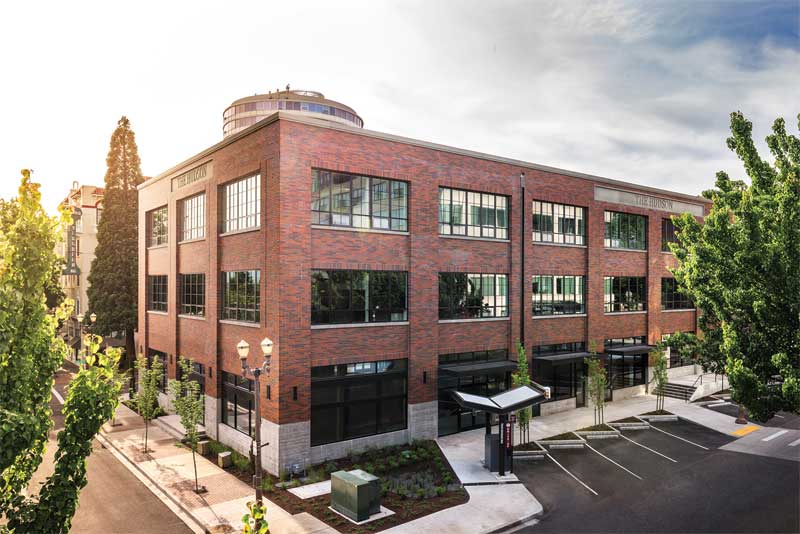 Constructability
The final major consideration is constructability, with a few factors—material lead time, contractor's craft skill, and protecting the wood during the construction process—requiring special attention. With proper planning, none of these factors pose a significant barrier to a project's success, but they all should be carefully addressed to ensure efficient, high-quality project delivery.
Lead time
Engineered wood products (e.g. glulam) tend to be commonly available in most locations. CLT requires more planning, as production is limited in the country—Canada has more availability. As this product becomes codified and interest increases, local production will likely ramp up. Materials for the NLT systems are very simple to get, but take some onsite time to fabricate and install.
Craft
Building with wood requires a certain skillset and craftsmanship that is different from other types of commercial construction. The resurgence of wood
as a viable commercial construction material offers builders an opportunity—which many relish—to display advanced woodworking ability. Since the heavy timber structural system is often left exposed as an aesthetic element in the building's finished condition, it is critical the wood is skillfully crafted. Fire ratings requiring connection protection is another aspect, which needs skill and precision. Fabricators who use computer numerical control (CNC) tools provide a heightened level of precision, helping with complicated connections and shapes, and reducing material waste.
Protection of material during construction
How wood is stored onsite, either in stockpiles or in the partially constructed building, has always been a concern. Again, with the heavy timber structural system often also acting as a finish element, wood protection can become increasingly critical. Members can come to the site wrapped and left that way until the last minute. Placing concrete over the top of a wood deck (NLT or CLT) can be really problematic, and preventing bleed water from staining the
wood is important. At the Hudson, a membrane was installed between the wood and concrete to prevent staining. The weather also needs to be considered—it is smart to schedule construction during the dry months.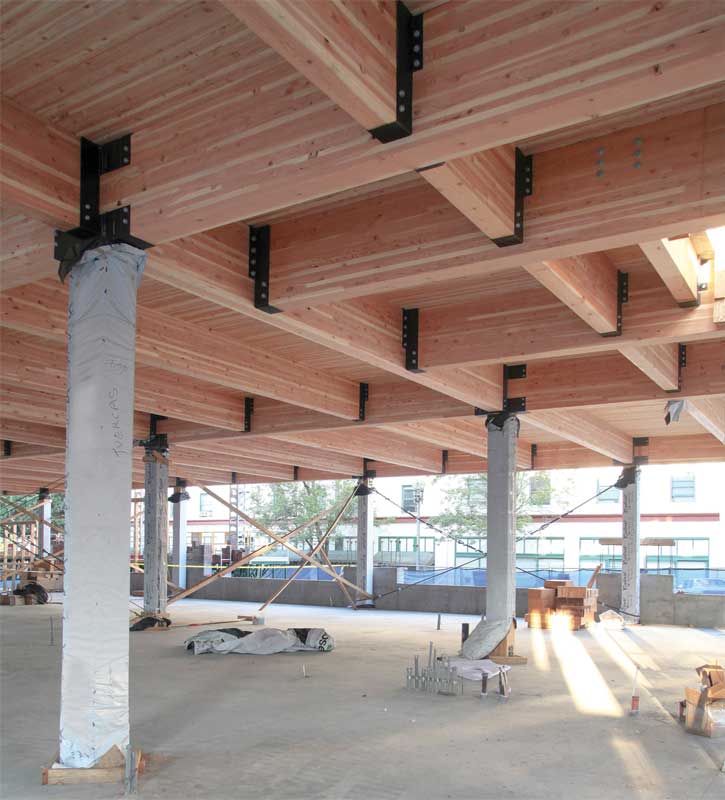 Conclusion
Heavy timber is gaining popularity as it simultaneously addresses many common goals in modern multistory developments. The material is sustainable, can often be locally sourced, and, as a finish element, elegantly expresses an immediate connection to both nature and historic context. This benefit lends heavy timber buildings an atmosphere of authenticity. When left exposed as a design feature, timber tells a story that is immediately and viscerally understood by building occupants.
The use of timber in the structural system can support an overarching design centered on well-being and biophilia, a common goal in contemporary workplaces. Adopting a heavy timber system also allows designers, builders, and owners to illustrate a connection to the past and often to the surrounding neighborhood while constructing forward-thinking buildings in response to contemporary needs. Moreover, heavy timber is cost-effective. When the structural system is exposed—a basic aesthetic driver in these projects—other materials used in the ceiling become extraneous. Approached properly, there is minimal difference in cost between a heavy timber or hybrid building and one with a steel structure.
With these motivations in mind—sustainability, context, and the bottom line—heavy timber expertise is growing in demand. Once the decision to use a heavy timber system has been made, a thorough understanding of fire rating, structural integrity, and constructability logistics is necessary. Each of these factors has its own set of nuances unique to heavy timber, but none are deal-breakers. In fact, as more buildings get designed and built with heavy timber systems, the process and available options are improving rapidly. Innovative thinking, coupled with a respect for traditional practices, is revolutionizing the bones of modern buildings.
Rich Mitchell, AIA, LEED AP, GGA, is the managing principal at Mackenzie, an architectural/engineering consultancy firm. Mitchell has an acute understanding of the resurgence in heavy timber construction. A longtime advocate of sustainable design, he is the Green Building Initiative's 2017 chair of the board of directors. Mitchell can be reached at rmitchell@mcknze.com.
Josh McDowell, SE, PE, LEED AP, is a current firm principal at Mackenzie and leads the company's structural engineering department. He has more than two decades of experience in the field, an extensive background in seismic strengthening code compliance, and regularly serves as project manager for seismic analysis and retrofit projects throughout the Northwest. McDowell oversaw the structural design of The Hudson heavy timber project. His e-mail is jmcdowell@mcknze.com.
Dietrich Wieland, RA, LEED AP, is the director of sustainability at Mackenzie, and he oversees the firm's mixed-use team. Specializing in adaptive reuse and urban infill projects, his professional experience includes mixed-use, commercial, and urban redevelopment projects. He led the design effort for both the Hudson and Clay Creative heavy timber projects. Wieland can be reached via e-mail at dwieland@mcknze.com.