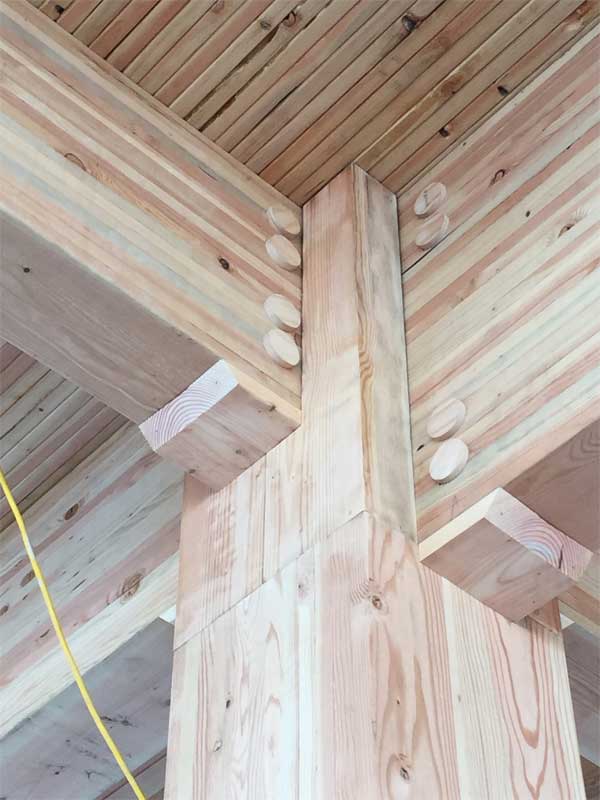 Sustainability and work environment
Environmental concerns can also drive the use of wood in today's structures and, in the process, serve as an organizing strategy for a project's sustainability objectives. Wood is a renewable resource with clear advantages over steel and concrete in terms of its total embodied energy. For example, Clay Creative's carbon emissions is 60 percent lower than an average building of its size—a reduction caused partly by its heavy timber structural system. (For more information, consult the 2016 AIA Oregon Architecture Awards Carbon Calculator for Clay Creative.) A lower manufacturing footprint and wood's availability as a regionally sourced material reduced its embodied energy.
As an exposed structural system, heavy timber can also positively impact the health and wellness of building occupants. Wood is a natural material, helping people connect to the natural environment as part of a biophilic design response. The premise of biophilic design is that a stronger human-nature connection can reduce stress, improve cognitive and creative functions, increase productivity, and support the overall health and well-being of inhabitants.
Economics
The authors' recent experience with heavy timber projects shows the cost to be comparable to other conventional structural systems, particularly if the heavy timber is left exposed (eliminating other finishes as well as reducing floor-to-floor height requirements). Exposed timber, when used as a finish, sustainably reduces extraneous material and systems, and reinforces biophilia. The impact of fire-rating requirements must also be considered. There are many such variations on the configuration of heavy timber buildings (e.g. stories, fire rating, ceilings, underfloor air distribution, etc.) that affect the overall cost, but on recent projects, the authors have seen effective design decisions bring the cost of heavy timber buildings on par with more conventional construction. As designers (and new tenants) for these types of buildings, the writers understand building owners are attracting a high-paying, stable tenant base, which seeks authentic and creative work environments. Higher rents and rapid lease-up help to offset minimal differences in building costs.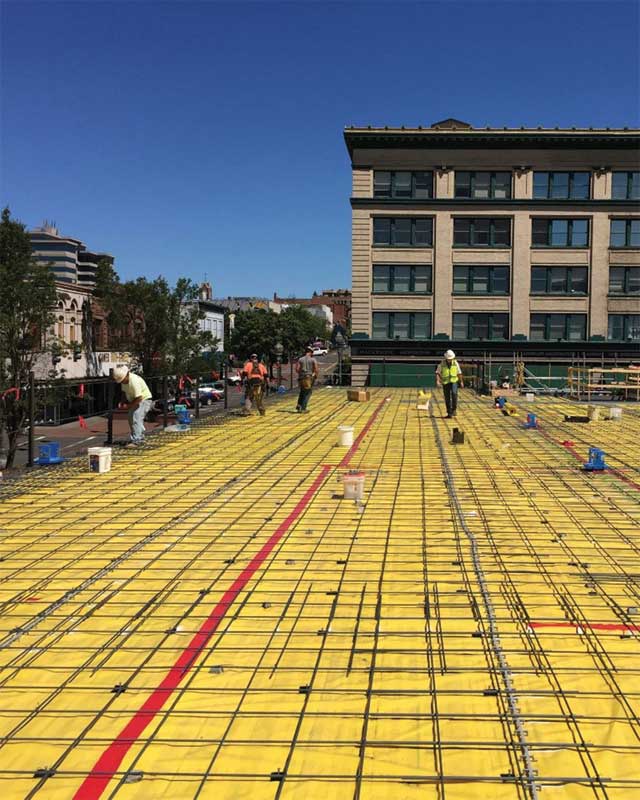 As heavy timber grows in popularity, its nuances are becoming more familiar, and design, detailing, fabrication, and construction costs are going down. CLT prices are dropping as more mills come on board and increase output. Recently, the Framework project, a new 12-story, 45-m tall (148-ft) office building in Portland, was granted a permit to start construction. Currently, the International Building Code (IBC) only permits at most a six-story building using Type IV construction. This would be the first CLT building taller than 26 m (85 ft) in the United States. It required rigorous fire, seismic, and other safety tests to prove an acceptable durability to the City of Portland Building Department in comparison to typical steel and concrete construction. Grant money is available in certain cases to encourage innovation in this area. For Framework, testing and research at Portland State University and Oregon State University were funded in part by a $1.5 million U.S. Tall Wood Building Prize Competition award.
These motivating factors—response to context, sustainability and workplace environment, and economics—have convinced multiple owners and developers to adopt heavy timber for new multistory buildings. Of course, the process is not over once a decision is made. Major design considerations are involved in implementing a heavy timber structural system. Like any material choice, heavy timber brings with it a distinct set of opportunities and challenges.
Design considerations
There are a few notable design considerations in using a heavy timber system, including fire rating, structural integrity, and constructability logistics like material lead time, skills and craftsmanship required, and protecting the material during construction. As with any system that is slightly removed from the status quo, a broadening of technical knowledge is necessary. For example, some of the techniques required to maintain the wood's finish may be unfamiliar to contractors accustomed to steel framing. However, none of these considerations present a great challenge—in fact, there exists an opportunity in each.