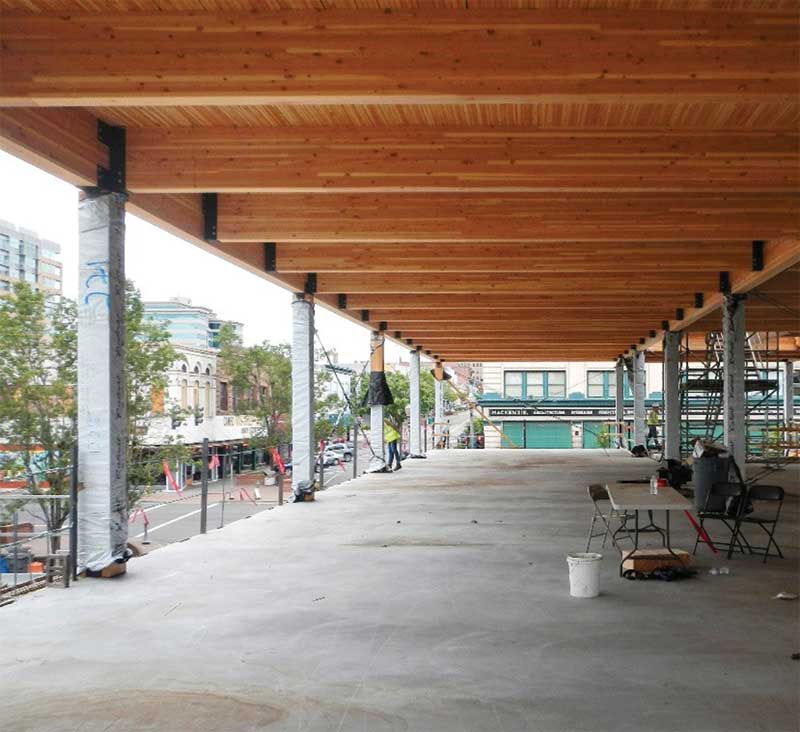 Fire rating
A thorough grasp of a heavy timber building system's fire rating is an integral part of the design process. This starts with an understanding of how fire interacts with wooden structural elements. Heavy timber is flammable, but depending on the situation (e.g. type of fire or fuel in space), charred wood can protect a structural element's core for an acceptable code-prescribed amount of time. The American Institute of Timber Construction (AITC) has developed methods for determining the necessary size of structural members to achieve a specific fire rating (one- or two-hour) while still meeting the structural demand. A large amount of research is being done on this topic as heavy timber is increasingly proposed for bigger buildings.
Protection of connections is a critical structural issue. While the wood can be designed to develop a protective char layer, the steel hangers and bolts typically used in non-rated wood construction lose structural integrity well before the wood elements they connect. In response, creative designers have developed column and beam connections concealed within the wood members, so the wood surrounding the connections provide a char layer of protection. As CLT is increasingly used, a wider array of improved concealed connections is being developed. Coordination of the connection design with the fabricator and other subcontractors is central to the success of mass timber buildings with fire-rated construction.
Wood structures are not necessarily any more flammable than other common building materials. Earlier this year, London, England's Grenfell Tower fire was exacerbated by highly flammable insulation and skin materials. Steel structural elements lose most of their structural integrity when heated above 288 C (550 F) and concrete starts to crack and spall at around 427 C (800 F). When properly sized, the char layer protects the structural core of a wood member, and can continue to perform as intended around 315 C (600 F) to 426 C (800 F). (For more information, read the 10th edition of Calculating the Fire Resistance of Exposed Wood Members by the American Forest and Paper Association [AF&PA], and the American Wood Council [AWC].) Wood begins to lose its structural integrity when the char depth reduces the cross-sectional area of a wood member to a point where it cannot support the imposed load.
As with any project, the unique circumstances or project vision may pose challenges requiring creative solutions. We have found heavy timber systems can accommodate the challenges posed. For the Hudson project, a two-story atrium required a different fire rating than the rest of the building. This difference
in rating meant there was a potential problem in the aesthetics of the atrium versus timber in the rest of the building: The owner's vision included a cohesive
and seamless system of exposed wood elements. To address the challenge, the thickness of the NLT deck was increased, and members in and around the atrium were upsized so they could remain exposed and meet the owner's aesthetic goals. The changes were achieved with fairly simple detailing at transition points, which camouflaged the interior connections.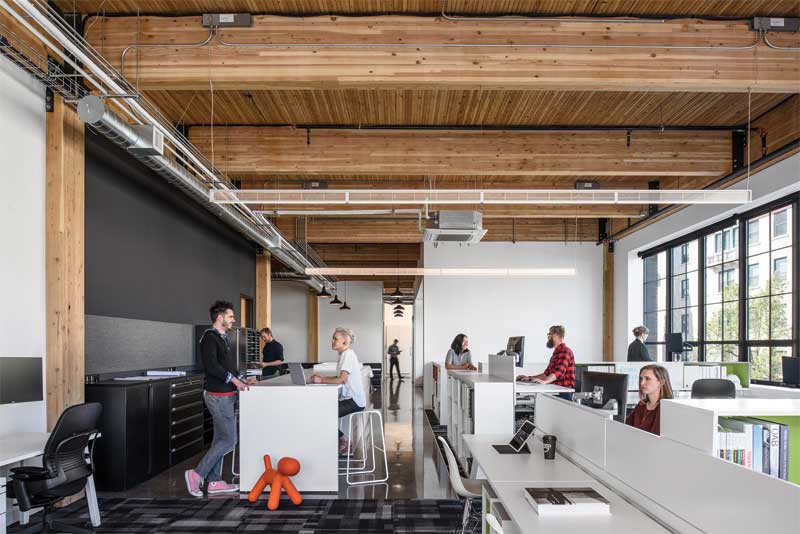 Structural integrity
Another important consideration is the seismic performance of the heavy timber system, particularly in active areas like the Pacific Northwest. In high seismic regions, use of mass timber structural elements is made more attractive because the material is lighter than steel and concrete, which reduces the building's seismic mass. While this system was codified years ago in Europe, the seismic demands in the United States are significantly higher. Research and new products are developing higher-capacity elements, achieving strength and ductility properties similar to more conventional systems.
Design firm Skidmore, Owings and Merrill is overseeing testing with Oregon State University of a CLT/concrete composite system, which increases span length and load capacity of floor elements. Combined building systems—concrete cores or steel frames as the vertical lateral system and mass timber for the floor—are a solution for those concerned about a mass timber system for an entire structure.
Meanwhile, the Hudson building was designed using non-bearing structural masonry exterior walls as shearwalls, which support a glulam beam and column system with 50 x 100-mm (2 x 4-in.) NLT floors and 50-mm (2-in.) concrete topping slab. The structural system was studied extensively at the start of the design process, with many systems evaluated. In the end, the hybrid system was chosen as a cost-effective way to achieve a robust structural system, achieving the look and feel the building owner desired, while being able to quickly go through the permit review process.
Early adopters of this technology have laid the groundwork, but more testing is currently underway to improve the entire project delivery process. Based on existing research, the 2015 IBC explicitly allows use of CLT construction, spelling out structural and fire-rating considerations. As more states adopt this new code, owners will begin to ask about CLT for their projects.
The State of Oregon recently developed Statewide Alternate Method, No. 15-01, Cross-Laminated Timber Provisions, which brought forward several  CLT provisions in the 2015 IBC, and included conservative seismic design parameters for CLT as seismic force-resisting elements. In some cases, plywood sheathing can be eliminated to allow CLT to act alone as the horizontal diaphragm, reducing costs.
In other states, use of CLT as a lateral force-resisting system can be achieved through the alternate material and method provisions in IBC, which allows for a performance-based design of these elements. This requires additional research and analysis on the structural engineer of record's part, and the path to approval should be coordinated with the building official at the start of the design process.