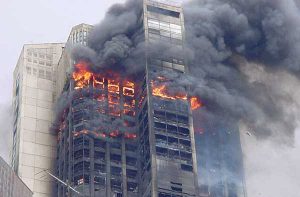 As the industry transitions to tighter and more energy-efficient buildings, it is critical designers remain vigilant against potential fire hazards. The intersection of the exterior wall and the floor assembly provides a number of different paths for vertical fire spread in buildings, says Tony Crimi in "The Leap-frog Effect," one of four articles in the "Fire Safety Strategies" e-book.
Crimi says his experience with fires has taught him ineffective curtain wall design, perimeter void fire protection, or inadequate spandrel protection can allow fire to spread through the space between floors and walls, the window head transom, and the cavity of the curtain wall. This can occur either by ignition of the exterior building cladding materials, through window glass breakage, or around melted aluminum spandrel panels.
Read more about fire behavior in buildings and designing for occupant safety in The Construction Specifier's newest e-book, "Fire Safety Strategies." This four-part e-book covers perimeter fire protection, fire-rated glazing, and smoke control.
Download the "Fire Safety Strategies" e-book in two different formats—pdf or digital edition—by visiting https://www.constructionspecifier.com/ebook/owens-corning-fire-safety-strategies-e-book/