How do attachments affect air and water barriers? Download the e-book
by Cindy Macdonald | September 17, 2018 3:53 pm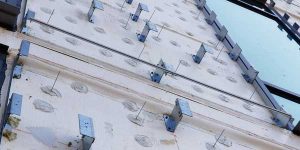 Guidelines for detailing and testing air and water barriers (AWB) pierced by cladding attachments are limited. Installation practices are also not consistent across projects. Design professionals should be aware of the limitations of current terminology and test methods related to the performance of penetrations through the AWBs. For example, "self-healing" and "self-gasketing" are sometimes used interchangeably, when in fact, they have very different meanings.
These and other insights to the function and design of air and water control layers in modern, high-performance building enclosures are presented in a new e-book, Protecting Against Water Intrusion. This is the latest in The Construction Specifier's series of free, downloadable e-books.
Readers will learn detailing for the high-risk areas of a wall system that permit moisture to enter the cavity, and how the transitions between face- and concealed-barrier systems must be closely examined to maintain continuity of the air, water, thermal, and vapor barriers.
Download the Protecting Against Water Intrusion e-book in two different formats—pdf or digital edition—by visiting https://www.constructionspecifier.com/ebook/georgia-pacific-protecting-against-water-intrusion-e-book/[1]
Endnotes:
https://www.constructionspecifier.com/ebook/georgia-pacific-protecting-against-water-intrusion-e-book/: https://www.constructionspecifier.com/ebook/georgia-pacific-protecting-against-water-intrusion-e-book/
Source URL: https://www.constructionspecifier.com/how-do-attachments-affect-air-and-water-barriers-download-the-e-book/
---