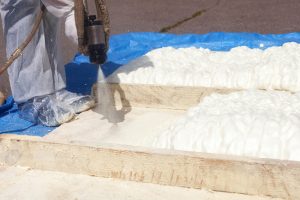 Texas-based chemical manufacturing company Huntsman Corporation has branded its spray polyurethane foam (SPF) business as Huntsman Building Solutions (HBS). HBS is a global platform within Huntsman's polyurethanes division.
The SPF business was formed when Huntsman acquired North American SPF company Icynene-Lapolla in February and combined it with Demilec, which Huntsman acquired in 2018.
According to Sprayfoam.com, "HBS is now one of the world's leading SPF providers and the fifth largest insulation manufacturer."
Simon Baker, previously president of Demilec, and Doug Kramer, former president of Icynene-Lapolla, jointly lead HBS. Baker is responsible for Canada and international business and Kramer for U.S. business.
"Integration of the two legacy companies is progressing well and the selection of the new name is an important milestone for the business," said Tony Hankins, president of Huntsman's polyurethanes division. "I am excited about the opportunities that lie ahead, notwithstanding the current challenges caused by the COVID-19 pandemic."