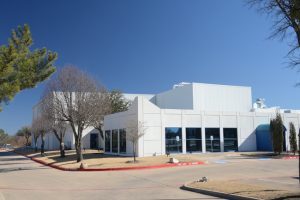 The new addition to the Blount Fine Foods manufacturing and processing chain in McKinney, Texas, employs an insulated metal panel (IMP) building envelope with a textured aesthetic to simulate the look and feel of precast concrete without sacrificing performance.
The transition and expansion of the 11,427-m2 (123,000-sf) facility required a high-performance building envelope that could maintain an internal temperature of 2 C (35 F), while meeting the city's unique aesthetic demands.
IMPs were chosen for the cold storage project as they provide the highest insulating value per square inch. The panels combine durable steel exterior and interior faces with polyurethane insulating foam core. IMPs also provide a complete air and vapor barrier in a single component.
"Insulated metal panels are a simplified means of construction with improved R-value for the building envelope," said Andrew Bowser, PE, principal and design architect with Team Group.
The IMPs also met the call for a textured aesthetic to complement the surrounding industrial architecture in McKinney. Team Group specified nearly 2787 m2 (30,000 sf) of insulated metal wall panels in a 102-mm (4-in.) thickness and textured white color. The product's textured exterior finish is an aggregated, fiber-reinforced polymer coating simulating the appearance of finished precast concrete.
The project also incorporates 186 m2 (2000 sf) of corrugated IMPs offering even sightlines and symmetry. Both IMP systems deliver a high R-value of nearly 33 to encase the facility's hydro-chiller system and food packing lines.