In light of the pandemic, metal buildings help usher in a new era in retail
February 11, 2021
by Sadia Badhon
The retail industry has always evolved alongside shifting consumer preferences, but the convenience of online shopping combined with effects of the COVID-19 pandemic has resulted in unprecedented challenges, leading to high store vacancy rates and declining foot traffic.
To stay profitable and relevant amidst these changing trends, forward-thinking retail developers are looking beyond the traditional strip mall and department store models of the past when considering development projects for the future.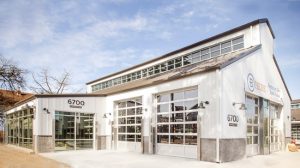 Many believe a solution lies in a trendy new niche of commercial communities, designed to offer meaningful shopping experiences that e-commerce simply cannot. These expansive outdoor markets boast an array of artisan goods in campus-like settings that draw people out of their homes and into unique community spaces.
These commercial communities, such as the Barlow, a 5-ha (12-acre) trendy outdoor marketplace in Sebastopol, California, appear poised to usher in a new era that could redefine and revitalize the modern shopping experience at a time when the industry is at an inflection point—and developers are increasingly relying on metal building systems as the method of construction to make these hip, high-end spaces a reality.
In an exclusive interview with the Construction Specifier, Tony Bouquot, general manager of the Metal Building Manufacturers Association[2] (MBMA), explains why this is happening and why the concept typically involves the use of metal building systems to essentially create a campus-like retail experience.
Most brick-and-mortar businesses have a hard time competing with the convenience of online shopping. How can forward-thinking facility designs help retailers stay profitable and relevant?
Bouquot: The retail industry naturally evolves in response to shifting consumer preferences. Today, the prevalence of online shopping has resulted in unprecedented challenges for traditional retailers, leading to high store vacancy rates and declining foot traffic. To stay profitable and relevant despite changing trends, some retail developers are opting to set up shop in commercial communities that are designed to offer an array of retail experiences, combined with music, meals, entertainment, and wide-open spaces.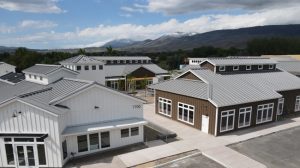 What are commercial communities, and what types of merchants/products do they typically provide?
Bouquot: Commercial communities are clusters of spaces that are most often defined by the vision of the developer. A case in point is the Barlow that was the brainchild of developer Barney Aldridge. He purchased a rundown, former apple-processing facility with the intent to transform it into an outdoor market. That vision evolved. Today, the Barlow has become an 18-building campus with more than 30 merchants, creatives, and artisans who produce many of their goods onsite. It is a thriving space of creativity and production, offering shoppers an immersive entertainment experience that is far more than just shopping. Beyond shops, the retail establishments are complemented with wine tasting, specialty cuisine, local distilleries, crafts, and live music venues. Other examples of similar commercial communities include the Village in Reno, Nevada, and Full Goods in San Antonio, Texas.
Why are metal building systems a preferred choice for constructing these hip, high-end spaces?
Bouquot: Metal building systems are often favored by developers for all the reasons you would imagine would appeal to a property owner. For a developer on a timeline, metal building systems are a smart economic choice because the structures can be built in about two-thirds the time of conventional construction. The design-build process is fast and the erection approach is straightforward. Buildings and building components are engineered and manufactured in a controlled environment and arrive at the construction site as a complete package. Another value from a developer's perspective is that metal buildings can be custom designed. Depending on a developer's goals, the steel skin on a metal building can be tailored to fit virtually any stylistic preference, ranging from rustic to high-end aesthetics. The exterior metal siding can be customized according to an owner's vision, incorporating façade treatments, such as wood, brick, or even bamboo.
What does the role of the engineer of record play in assuring building code compliance?
Bouquot: The engineer of record (EOR) should be aware of International Accreditation Service (IAS) AC472, Inspection Program for Manufacturers of Metal Building Systems. This is a comprehensive accreditation program based on the requirements of Chapter 17 of the International Building Code (IBC). Any architect, EOR, or code-enforcement official can require IAS AC472 accreditation of the manufacturer as a quality and safety benchmark for a project. Additionally, Common Industry Practices, a handbook updated this year, contains a summary of all practices related to metal building design and construction and details the expectations of all parties at each step of the process.
The global pandemic has taught us safety is an important consideration for many shoppers. Are commercial communities the key to safer shopping experiences, now and in the future?
Bouquot: Commercial communities tend to require people to meander outdoors, visiting buildings sequentially. Most commercial communities have abundant outdoor seating and wide-open spaces for group gatherings. Many of the retailers at the Barlow, for example, also have roll-up windows and doors to allow people to wander into the stores as they stroll the sidewalls that connect the community.
Why are versatile construction solutions important in today's retail environment?
Bouquot: Metal buildings create open, column-free interior space. That is important for makers markets in commercial communities, such as breweries and wineries that need room for large equipment and production, as well as flexible seating options. A metal building's long-span frames and strong structural-steel supports help meet the space requirements of a large production facility without the intrusion of interior columns. Metal buildings are inherently versatile and can be reconfigured and expanded over time to meet changing needs.
Endnotes:
[Image]: https://www.constructionspecifier.com/wp-content/uploads/2021/02/Opener-14.jpg
Metal Building Manufacturers Association: https://www.mbma.com/
[Image]: https://www.constructionspecifier.com/wp-content/uploads/2021/02/Opener2.jpg
Source URL: https://www.constructionspecifier.com/in-light-of-the-pandemic-metal-buildings-help-usher-in-a-new-era-in-retail/
---