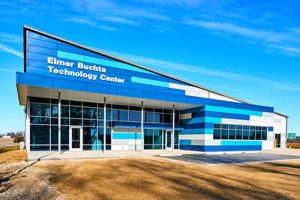 The Elmer Buchta Entrepreneurship & Technology Center (EBETC) in Pike County, Indiana, revitalizes and supports the community's educational and employment opportunities. Welcoming visitors to EBETC's modern business incubator, the multi-colored exterior designed by Hafer features a metal rainscreen wall panel system.
The panels were finished using four colors: bone white, cityscape gray, a darker regal blue, and a lighter siam blue. The colors were applied using two 70 percent polyvinylidene fluoride (PVDF)-resin based architectural coating systems.
All the finishes for EBETC's panels were applied under factory-controlled conditions to meet American Architectural Manufacturers Association (AAMA) 2605, Voluntary Specification for Performance Requirements and Test Procedures for Superior-performing Organic Coatings on Aluminum Extrusions and Panels. Protecting and enhancing the aluminum panels, these coatings' strengths include resistance to color change, gloss loss, chemicals, ultraviolet (UV), chalking, erosion, humidity, and salt spray. These durable finishes are tested under extreme conditions to ensure they retain their appearance and high performance for many years.
The manufacturing company provided the installer 819-m2 (8820 sf) of its rainscreen metal wall panel system. To ensure a precise fit, the manufacturing company team used a high-definition laser scanner to map the dimensions of the EBETC's building frame.
Based on the scanned dimensions, the panels were fabricated by lightweight, durable aluminum plate. The rainscreen panel system provides 13-mm (0.5-in.) wide by 44-mm (1.75-in.) deep panel joints, staggered or inline options for joint layout, and built-in channels to shed water.
EBETC's 790-m2 (8500-sf) facility offers a mix of co-working space and private offices, maker space and equipment for prototyping, training rooms, lounges, and room for future expansion.