Infusing desert geology in Arizona campus design
by Samantha Ashenhurst | April 6, 2018 3:14 pm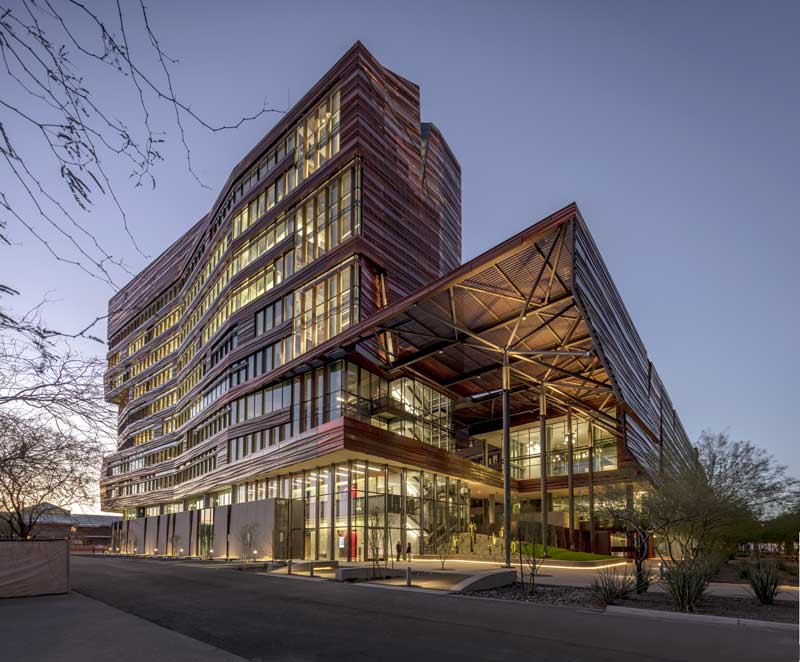 When planning the Biomedical Sciences Partnership Building (BSPB) at the University of Arizona[2]'s Phoenix Biomedical Campus[3], designers from CO Architects[4] and Ayers Saint Gross[5] strived for the same regionally-inspired desert and canyon look they created with the adjacent Health Sciences Education Building (HSEB), which opened in 2012.
"The architecture of the BSBP is similar to that of the HSEB in suggesting Southwestern geology through its horizontal striations and chiseled exterior," said Paul Zajfen, CO design principal. "We wanted to introduce consistency and a strong sense of identity in this part of the campus by relating two buildings."
Similar to its sister structure, the new BSPB is clad in folded copper panels; however, the building's exterior, through pronounced setbacks and projections, presents a different physical interpretation of the tall, cleft, desert rock formations. The design team had previously completed extensive studies, computer modeling, and mockups for HSEB's copper skin, which allowed for some streamlining when developing the BSPB. As such, the 22,761-m2 (245,000-sf), $99-million laboratory complex was successfully programmed, designed, and constructed in 27 months.
The 10-story building—the tallest on campus—has achieved Leadership in Energy and Environmental Design[6] (LEED) Silver certification under the U.S. Green Building Council[7] (USGBC) by instituting several sustainable features, including copper paneling comprised of 95 percent recycled materials, passive orientation, a cascade air supply system, chilled beams in labs, and installing light-emitting diodes (LEDs) throughout the interior.
The design was organized to encourage collegiality, collaboration, and customization. As the structure was planned before its future occupants were known, architects designed a general framework of laboratories, support spaces, and offices.
"The intent was to create an adaptable plan and utility distribution backbone that would be easy to modify when people eventually occupied the spaces and used them for different types of research," said Andrew Labov, principal at CO.
Open offices at the BSPB's north perimeter maximize daylight and views. These areas are visually connected to labs, which currently support neurological, cardiovascular, cancer, genomic, and nano-bioscience research. Flexible lab support spaces are arranged next to windows on the south side, while mechanical equipment is housed in the building's windowless east and west ends.
"We will pursue expanded partnerships with industry that we hope will lead to groundbreaking discoveries," said university president Ann Weaver Hart. "This building will allow us to further these efforts and ultimately improve lives."
Endnotes:
[Image]: https://www.constructionspecifier.com/wp-content/uploads/2018/04/ed_08-CO_BSPB_BillTimmerman.jpg
University of Arizona: http://www.arizona.edu/
Phoenix Biomedical Campus: https://biomedicalphoenix.com/
CO Architects: https://coarchitects.com/
Ayers Saint Gross: http://asg-architects.com/
Leadership in Energy and Environmental Design: https://new.usgbc.org/leed
U.S. Green Building Council: https://new.usgbc.org/
[Image]: https://www.constructionspecifier.com/wp-content/uploads/2018/04/ed_01_CO_AZ-BSPB_Timmerman_.jpg
[Image]: https://www.constructionspecifier.com/wp-content/uploads/2018/04/ed_06-CO_BSPB_BillTimmerman.jpg
[Image]: https://www.constructionspecifier.com/wp-content/uploads/2018/04/ed_07-CO_BSPB_BillTimmerman.jpg
[Image]: https://www.constructionspecifier.com/wp-content/uploads/2018/04/ed_07_CO_AZ-BSPB_Timmerman_.jpg
[Image]: https://www.constructionspecifier.com/wp-content/uploads/2018/04/ed_10_CO_AZ-BSPB_Timmerman_.jpg
[Image]: https://www.constructionspecifier.com/wp-content/uploads/2018/04/ed_06_CO_AZ-BSPB_Timmerman_.jpg
[Image]: https://www.constructionspecifier.com/wp-content/uploads/2018/04/ed_05_CO_AZ-BSPB_Timmerman_.jpg
Source URL: https://www.constructionspecifier.com/infusing-desert-geology-in-arizona-campus-design/
---