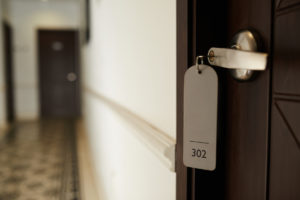 Construction is underway on the Hilton Garden Inn, a 12-story high-rise on the University of Iowa campus. The team working on this 5110-m2 (55,000-sf) steel-framed hotel—including Cities Edge Architects and contractor Rushton Sheet Metal—has found a strong solution to the project's variety of insulation-related challenges.
The Iowa City project required energy-efficient insulation to act as a barrier to three elements: thermal, air, and moisture. Using insulation for the latter two functions allowed for savings on materials and labor, but posed a challenge—the team had to ensure the building's insulation and taping was seamless if it was to properly function.
A continuous insulation (ci) solution was selected to overcome this—one that both fits the requirements of the project and is readily available near the jobsite. The high RSI/R-value, durability, and water resistance of this material—composed of Class A fire-rated, closed-cell polyisocyanurate (polyiso) rigid foam core—allow it to provide the energy efficiency and high performance being sought by the team.
The insulation has foil facer on both sides, with an embossed white acrylic-coated aluminum variety on the front and a reflective variety on the back. It is available in a variety of thicknesses and RSI/R-values, and its ability to serve multiple purposes, eliminating extra steps, helps users save both in labor costs and in up-front expenses.
For the majority of the Hilton Garden Inn, 63-mm (2 ½-in.) thick insulation with an RSI of 2.82 (R 16) was used. The remainder of the hotel was insulated using a 76-mm (3-in.) thick variety with an RSI of 3.47 (R 19.7). Polyiso was installed on the exterior of the studs and gypsum board.
Apart from cost and labor savings, what made this an effective solution? Continuous insulation is required by codes and standards such as the International Energy Conservation Code (IECC) and American Society of Heating, Refrigerating, and Air-conditioning Engineers (ASHRAE) 90.1-2010, Energy Standard for Buildings Except Low-rise Buildings. The building concept saves energy, forming an uninterrupted thermal barrier over the entire wall (while most insulation only forms a barrier in wall cavities between studs). To be considered 'ci,' an insulation solution must continue across all structural members with no thermal bridges but fasteners and service openings.
This could only be achieved with correct installation, sealing, and securing of the insulation. To ensure this could be done, the insulation manufacturer provided mockup wall training in which the architect and contractor participated. The training involved the complete building of a small section of wall, wherein attendees added insulation, caulks, sealants, attachment systems, and cladding to garner clearer understanding of how the system works and how to eliminate seam leaks.
The Hilton Garden Inn is set to open in the summer of 2017.