IT for Healthcare: The importance of low-voltage infrastructure
by Katie Daniel | September 30, 2015 11:19 am
by Matt Odell, RCDD
Progressive healthcare organizations realize the vital role of their facilities' low-voltage information technology (IT) infrastructure and have taken a holistic view of the many systems needed. This is especially important during new construction or renovation projects to ensure nothing is compromised during the process. Inefficient design and deployment practices result in added costs and project schedule delays; they may also contribute to the creation of 'technology silos' that reduce or preclude the infrastructure's ability to support network convergence and new technologies in the future.
The healthcare industry has become one of the biggest drivers of Internet Protocol (IP) convergence, expanding beyond digital patient records and administrative needs to include critical applications such as electronic video surveillance, access control, patient monitoring, and equipment tracking. Further, these applications are only the tip of the iceberg for IP explosion—IT touches every department across the healthcare enterprise.
As a result of the proliferation of technology systems within hospitals, more extensive planning has become crucial to allow for their proper installation. Even more challenging, these systems constantly change and evolve as technology advances. This means planning must provide flexibility to allow for the quick progress of technology. Just as important to effectively support organizational goals for improved patient satisfaction scores, healthcare systems must also incorporate an innovative wireless strategy that includes a robust and scalable infrastructure and expansive, reliable wireless coverage.
While architects, specifiers, and other design construction professionals are not the end users of hospital automation systems, they must understand them to ensure the hospital is equipped with the right material transport systems. It is critical they work with the end-user to help analyze needs, evaluate designs, and address current and future workflow requirements—ensuring the installed IT infrastructure system increases efficiency and enhances the patient experience.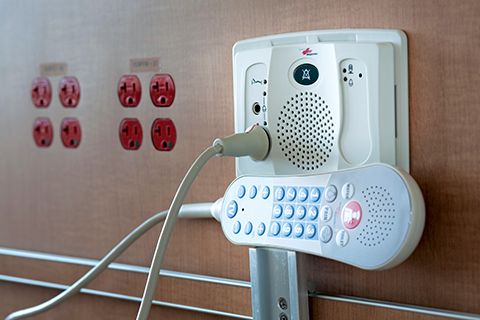 Product selection can reduce costs
During new construction or renovation, healthcare facility owners and managers face a combination of economic pressures and compressed schedules that can increase the costs of installation and retrofits. The careful selection of electrical infrastructure products has the potential to greatly benefit the entire project timeline.
The use of products and systems that have 'designed-in' productivity offer numerous benefits throughout the life of a building project. Products and integrated systems offer time savings in the design, assembly, and installation of the electrical and cabling infrastructure[3]. Installation is simpler, so there are fewer errors and delays due to re-work. After initial construction, plug-and-play capabilities make it easy to accommodate moves, additions, and changes.
Prewired raceways
Armored cable (Type AC) and metal-clad cable (Type MC) provide a fast and efficient way of wiring both new construction and remodeling work. Their flexible metal armor provides mechanical protection of the electrical conductors while enabling them to bend around corners. The cables are pre-wired at the factory, eliminating the need to pull conductors into a raceway. Some of the key benefits for the healthcare industry are the ease of installation, the variety of profiles, capacities and fabrication options available, and the ease of making moves, additions, and changes to existing installations as the needs for services or spaces change.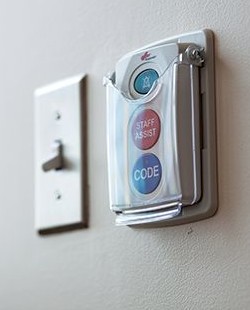 Modular wiring systems
A rapid and easily installed modular distribution system prefabricated offsite, these systems are essentially the circuit lines of a traditional scheme. They allow for a complete installation—from the pre-wired plug in distribution board (all wired internally) to the furthest point of a circuit—by simply connecting the system components together, without need for any hardwired connections. One of the key benefits of modular wiring systems is the speed of installation.
Wire-mesh cable trays with pre-assembled supports
This assembly allows for overhead or under floor cable routing and enables better airflow than solid conduit.
Pre-fabricated wiring systems
This is an easily installed modular distribution system that is more efficiently prefabricated off-site in a controlled environment. A pre-fabricated wiring system minimizes the number of hard connections that need to be made, saves time and labor, and increases efficiency. Additionally, it is a flexible system that uses factory-manufactured components that clip together and eliminate the tedious and repetitive work of installing pipe, pulling wires, cutting, stripping, and screwing wire nuts.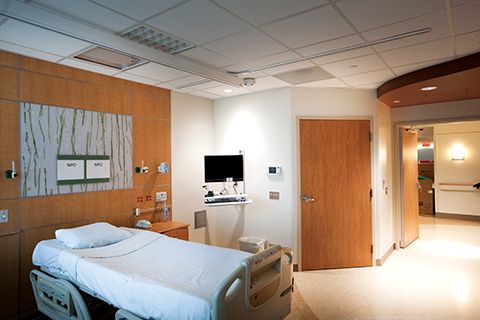 Healthcare cabling standards
There is a major challenge to install or upgrade the cable plant in a healthcare environment that is always operating, but the costs are often higher for healthcare facilities that close. In fact, the costs to re-cable a live hospital can be up to five times higher than the costs of cabling a new healthcare facility.
One of the biggest issues for infrastructure design and deployment has been the lack of consistent cabling practices in today's healthcare facilities. The impact of multiple IP technologies, combined with various integrated cabling systems, has caused the information and communications technology (ICT) industry to create consortiums of infrastructure manufacturers, healthcare IT professionals, network designers, and contractors to collaborate on creating documents for best cabling practices.
Over the last four years, these groups, through standards bodies such as the Telecommunications Industry Association (TIA) and Building Industry Consulting Service International (BICSI), have published two standard documents that provide recommendations for best cabling practices in the healthcare environment.
Cabling requirements in healthcare facilities can be much more complex than a standard commercial building or office space, which are covered by TIA 568, Commercial Building Telecommunications Cabling Standards. Consequently, TIA 1179, Healthcare Facility Telecommunications Infrastructure Standard, was created to address the unique requirements of healthcare environments, recognizing their work areas to be fundamentally different than those within a typical office facility.
Part of that standard defines and differentiates workstation densities for 11 categories found in a healthcare environment, such as operating rooms as high-density, patient services as medium, and waiting rooms as low. The TIA-1179 standard specifies cabling, topologies, and cabling distances to support a wide range of healthcare facilities and systems.
According to TIA, the telecommunications cabling specified is intended to support a wide range of clinical and non-clinical systems (e.g. radio-frequency identification [RFID], building automation systems [BAS], security management, and pharmaceutical inventory), particularly those which utilize or can utilize IP-based infrastructure. This includes standard IP-based systems as well as low-voltage systems such as lighting control, HVAC, nurse call, and access control that can be run over structured cabling.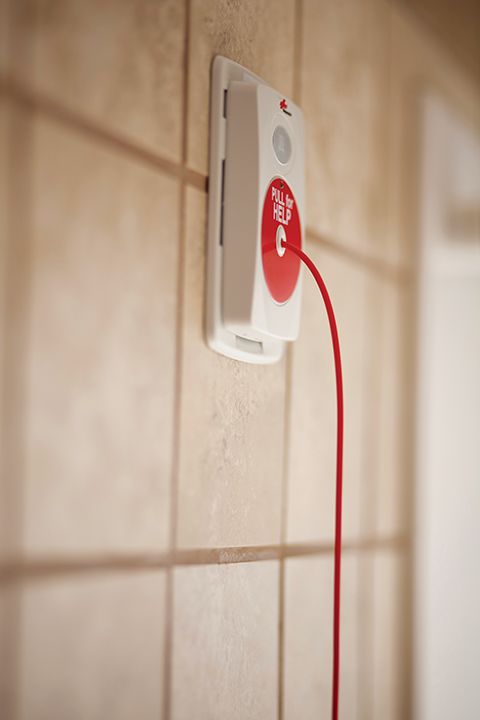 Choosing designers and integrating systems
Selecting a low-voltage systems designer should be a careful decision, but it can be done on the same basis on which other traditional design-team members such as architects, engineers, and interior designers are selected. One should:
look for companies and individuals with previous design experience and industry-recognized accreditations including registered communications distribution designers (RCDDs) for infrastructure and certified technology specialist−design (CTS−D) for audio/visual technology (ensuring
that their experience is of a similar scope to the current project);
meet with prospective low-voltage systems designers up-front to make certain they understand objectives and share the project team's values and concerns; and
ensure the company or individual is dedicated to
a successful project and will remain involved past the design process—throughout construction, and after to test these systems and train the staff on their use.
Low-voltage systems should be carefully integrated from initial design through construction to avoid an increase in project costs and scheduling challenges during installation, commissioning, and turnover. Considering all systems in a holistic approach can minimize issues and potentially solve a problem before it becomes one. Early emphasis placed on technology will help vet coordination matters up front and reduce downstream issues and increased expenses.
Healthcare organizations should consider integrating all technology scopes under one management source. This ensures all systems are being considered throughout each subcontractor's scopes of work, eliminating silos. Such an integrated approach will help to reduce challenges for both organizations and project teams. It will also provide a central point of accountability for the entire technology sy[7]stem[8].
Other advantages of utilizing a technology integrator is assurances the entire cable plant installation is a consolidated effort and can help the customer occupy their new facility quicker. Further, to address the complexities of technology-integrated design issues, a firm with highly specialized technology staff—certified electrical engineers, RCDDs, registered telecommunications project managers (RTPMs), security engineers, and wireless specialists should be selected.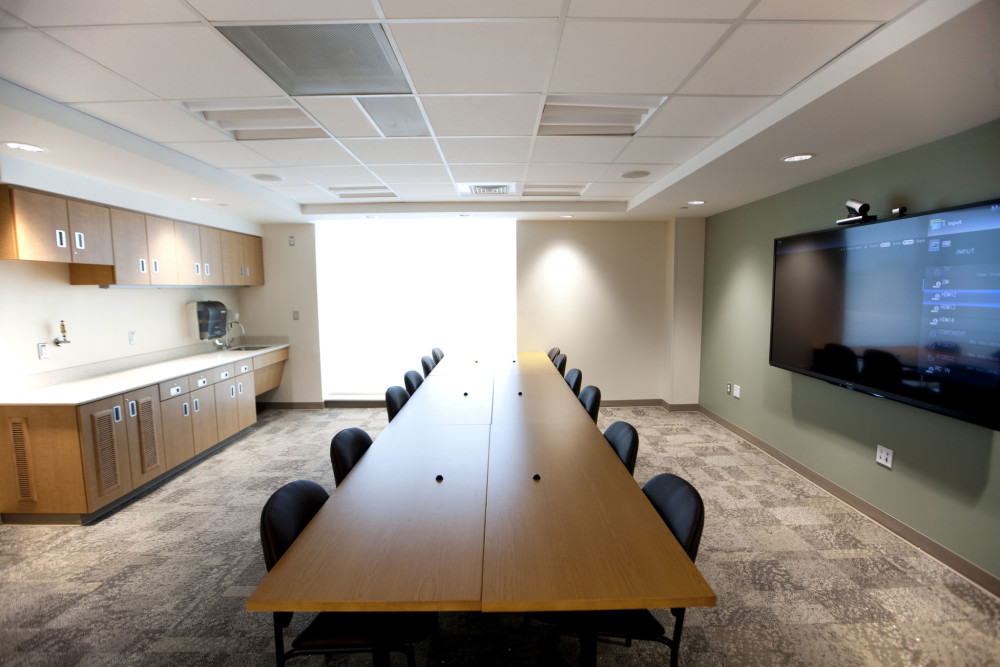 Case study: Renovations at Inova Hospital
The Inova Women's Hospital/Inova Children's Hospital (IWHICH) is the most expansive construction undertaking within Inova Health System's medical-campus' $850-million expansion in Fairfax, Virginia. When completed next year, IWHICH will be a 12-story, 61780-m2 (665,000-sf) hospital with:
308 patient rooms;
108-bassinet neonatal intensive-care unit (NICU);
eight general operating rooms (ORs);
six C-section operating rooms;
33 labor-delivery suites;
13-bed labor-delivery triage; and
48-bed high-rise prenatal unit.
Core to this construction is a new network to incorporate the many IP applications that go beyond electronic medical records (EMRs). This integration not only provides more efficient services to the patients and staff, but also consolidates network equipment, drastically saving on hardware equipment costs—for network operation budgets, this represents one of the biggest advantages of IP convergence.
The hospital network infrastructure design includes 23 intermediate distribution frame (IDF) rooms for distribution of the enterprise network and 23 physically separated 'low-voltage' IDFs for consultant/contractor-supported systems. This method helps alleviate security concerns and keeps the hospital data in compliance with the Health Insurance Portability and Accountability Act (HIPAA[10]). The enterprise network includes telephone and administrative data, as well as biomedical engineering systems like a physiological monitor, fetal monitors, and telemetry. Some of the vendor-supported technologies in the low-voltage rooms include the nurse call system, building automation, real-time location systems, and electronic security with infant protection.
Supporting both the hospital and other structures is a standalone central utility plant (CUP) that provides all the utility controls to these buildings. It was necessary to design and install a small network and telecom room in that facility to monitor the security cameras and access control system. As such, contractors pulled 518 m (1700 ft) of 12-strand armored loose-tube optical fiber cable from the devices in CUP to an IT room located in IWHICH.
Due to the large footprint of each of the 10 main patient floors, from ground through 10 (excluding the seventh floor), there are two sets of IT and low-voltage rooms per floor to ensure no runs of twisted-pair copper distances exceeded the 100-m (328-ft) limitation. Each of the 23 IT rooms on these floors consists of three racks—one for data and voice terminations, one for physio monitoring, and one for active equipment and future expansion. The adjacent and stacked 20 rooms for other low-voltage services are the same size and contain three racks for the equipment; they are accessible to each separate service vendor.
When completed, there will be more than 914,400 m (3 million ft) of Category-6 cable—this is greater than the distance from the Fairfax campus to Philadelphia.
Conclusion
Healthcare facilities' IT infrastructure system is the building's backbone—the wiring and cabling pathways, lighting and lighting controls, and data, audio-video, and communications systems. As hospital network requirements are unique—such as the high number of outlets in operating rooms and patient rooms—network planners and administrators should look to ANSI/TIA 1179 for recommendation and advice on creating a high-performance structured cabling system. Beyond these industry standards, there remains the importance of selecting a low-voltage systems designer who is dedicated to ensuring a successful project.    
LOW-VOLTAGE CABLE ROUTING

Few industrial or commercial applications use as much low-voltage wiring as medical facilities, with many new hospitals having more than two dozen different systems. Determining where to install this cable—underfloor or overhead—is an important decision that should be closely assessed.
Cabling has gone from overhead to below the raised floors because there is better airflow through the raised floor plenum. Additionally, raised floors are a welcome option for installations that include a large number of cables, such as in a hospital. Instead of running cables overhead, they can be easily installed and rapidly changed under the raised flooring.
For communications cabling, raised flooring has a number of advantages, such as an outlet can be located anywhere on the raised floor and any number of conductors may be routed to that outlet. Further, radiology equipment may be updated or replaced many times during the life of a hospital. Raised floors are common in radiology equipment rooms, such as CAT scan and MRI rooms, which generally include new control cabinets in different room locations and new cables and routes.
While running the communications cabling under the floor has some advantages, it also presents design and installation challenges. If other systems will be running underfloor, such as electrical, HVAC, plumbing, communications, and fire suppression, it will take a lot of coordinating between all of the trades. Everyone has to work together to make this a success.
The negatives of underfloor cabling include the potential for cables to block airflow, possible space constrictions, and some unintended consequences of removing a floor tile to access the cable.
Underfloor cabling design
The design phase with an underfloor cabling installation requires the planners
to think, literally, on different levels:
The underfloor layer, including the cable routing and the location of consolidation points.

The raised floor, including, most critically, the precise location of the floor boxes that hold the faceplates and jacks.
Cables must be rated for the location where they are installed, which would require a plenum- or riser-rated cable. A few manufacturers have developed products that are both plenum and wet-rated, but the electrical contractor may not always know in advance whether that type of cable will be installed. To avoid this issue, it is always best to extend the underground or in-slab conduit—for both floor boxes and any outlet outside—to the serving communication room and stub it up there.
Defining the depth of the underfloor space must depend on a careful consideration of its uses. Otherwise, the layout of flexible conduit from a power-distribution unit could block the airflow from an HVAC unit. Chilled-water-pipe diameter, flanges, and insulation must all be taken into consideration in order to facilitate proper system operation and to provide adequate maintenance work space. Once the dimensions are determined, the architect and structural engineer must make the necessary accommodations to ensure these dimensions are achieved so that there is a smooth transition into the raised-floor area.
Raised flooring is a vital part of how a facility operates. By elevating the working floor surface from the subfloor, a useful space is created for air distribution, power cables, and data and voice wires. Once only used in data centers and electrical control rooms, many architects and facility owners/operators are realizing the benefits of raised floors.
Matt Odell, RCDD, is the director of technology for S2N Technology Group, a technology contractor and wholly owned subsidiary of Clark Construction Group. He serves as the company's central point of contact for customized design, installation, and support for information technology (IT) services for new construction and renovations. Odell may be contacted via e-mail at matt.odell@s2ngroup.com[11].
Endnotes:
[Image]: http://www.constructionspecifier.com/wp-content/uploads/2015/09/IMG_8313.jpg
[Image]: http://www.constructionspecifier.com/wp-content/uploads/2015/09/IMG_8200.jpg
cabling infrastructure: http://facilitymanagement.com/cms/2014/buildingdesign-2014-2-1/
[Image]: http://www.constructionspecifier.com/wp-content/uploads/2015/09/IMG_8206.jpg
[Image]: http://www.constructionspecifier.com/wp-content/uploads/2015/09/IMG_8160.jpg
[Image]: http://www.constructionspecifier.com/wp-content/uploads/2015/09/IMG_8214.jpg
technology sy: http://mcdmag.com/2014/02/mep-t-the-network-as-the-fourth-utility/#.Va07gbVp2nI
stem: http://mcdmag.com/2014/02/mep-t-the-network-as-the-fourth-utility/#.Va07gbVp2nI
[Image]: http://www.constructionspecifier.com/wp-content/uploads/2015/09/IMG_8296.jpg
HIPAA: http://www.hhs.gov/news/press/2014pres/03/20140328a.html
matt.odell@s2ngroup.com: http://matt.odell@s2ngroup.com
Source URL: https://www.constructionspecifier.com/it-for-healthcare-the-importance-of-low-voltage-infrastructure/
---