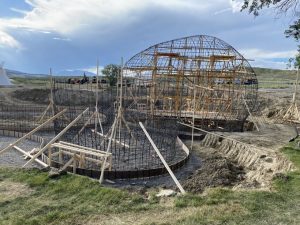 American rapper Kanye West has revealed on Twitter a new image of his dome-shaped housing prototypes located in Calabasas, California, with the caption "YZY SHLTRS in process #2020VISION."
The tweet comes over a year after the rapper first announced his plans to build the affordable homes in May 2019. In July 2019, the domes were deemed to be in violation of the building code. Three out of the four prototypes located in the wooded area at West's 121-ha (300-acre) residence was demolished, according to a TMZ report.
This new tweet could mean West has got the required permissions and construction has resumed.
The domes were inspired by Luke Skywalker's childhood home. West worked with a team to design the prefabricated structures with the goal of using them as low-income housing units, Forbes reported.