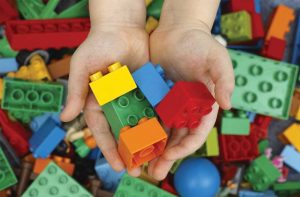 The CSI-Connect Community is a members-only, password-protected forum where construction industry professionals can interact in real-time to exchange insight and ideas. They can also relax and discuss some of the more nuanced aspects of their work, like they did in response to a question about what childhood gift previewed their career as a specifier. Happy Holidays!
"The Christmas present that really got me going was a Kenner Building Set. Green base with holes punched on a grid, a series of plastic 'structural' elements that plugged together, and a bunch of wall panels that snapped onto the structural ones." – Joel Niemi CSI.
"For me it was the Girder and Panel building set, and pre-LEGO American Plastic bricks. I would spend hours building and trying new ways of using the materials." – Clinton Newton, CSI, CDT, LEED AP.
"I grew up on LEGOs, but what sealed the deal was a copy of Architectural Graphic Standards, 6th Edition, that I received while in high school. I had expressed an interest in architecture at the time and my parents gave me a copy of the very expensive reference book the Christmas before graduation." – Ronald Geren, FCSI, CCS, CCCA, CDT, AIA, CSC, SCIP.