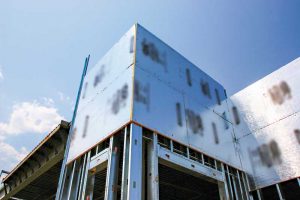 By Todd Gluski
Fluffy (and potentially messy) flash-and-batt insulation is primarily what still comes to mind when the general population thinks about 'insulation' for a building. This form of insulation is still used extensively, but it has been surpassed by higher-performing products which have an added benefit of meeting requirements for other wall components as well.
With innovations in material technology advancing how professionals think about—and ultimately construct—exterior walls, new methods of insulation have moved to the forefront of the conversation when it comes to performance over the long term.
Insulation needs to be seen as an investment capable of providing superior thermal performance while adding long-term value to a structure. Structural continuous insulation materials are a viable and industry-leading solution. This insulation type shields commercial buildings from outside elements such as heat, cold, air, and moisture. In addition, some variations of this product can include a structural component (equivalent to using structural sheathing) which effectively enhances lateral shear properties of an entire wall system. Speedier installation, expedited project timelines, and cost efficiency are all benefits of structural continuous insulation, with the added advantage of enhanced energy efficiency for the whole building and protection against water and moisture.
Selecting the right insulation for enhanced energy efficiency
Continuous insulation is vital to a wall's overall performance and serves as the last line of defense when it comes to keeping heat inside (or outside) of a structure. For large-scale commercial buildings, its role is even more pivotal. In essence, as heat is transferred through studs, a barrier must be in place to reduce energy loss. If insulation is not installed continuously across the building envelope, a structure is not living up to its full potential in terms of thermal performance.
Every built structure must combat internal temperature fluctuations, and certain factors cannot be controlled, such as outside temperatures which vary from season to season. For building owners of every kind, maintaining a comfortable interior temperature is a perpetual challenge requiring constant adjustment to the thermostat for the HVAC system, or opening and closing the windows to suit owner and occupant preferences for comfortable internal temperatures. Choosing continuous insulation during the construction phase of a commercial project can make a discernible difference. This choice can also positively impact code compliance and can lead to greater efficiencies when it comes to project completion for building crews.
Choosing continuous insulation can pay dividends for building owners and occupants by keeping buildings cool in the summer and warm in the winter. In addition, because continuous insulation keeps interiors at the right temperature for longer, energy consumption is reduced. This carbon footprint reduction in a commercial or multi-family building can go a long way in supporting a healthy built environment and saving building owners money on monthly energy bills.
The key considerations are thermal bridging and moisture buildup. Continuous insulation products are manufactured specifically to overcome these challenges.
Thermal bridging occurs when heat is transferred through uninsulated material such as a wall stud. This occurs in wood and steel frame construction, but more so in steel because it is much more conductive than wood.
Exterior continuous insulation prevents thermal bridging (and therefore thermal loss) by providing an uninterrupted barrier outside of the studs. This allows builders to deliver high R-values even in 2×4 construction, which results in a thinner wall that still delivers on long-term performance. For the owner, this curbs the overall energy needs of the building.