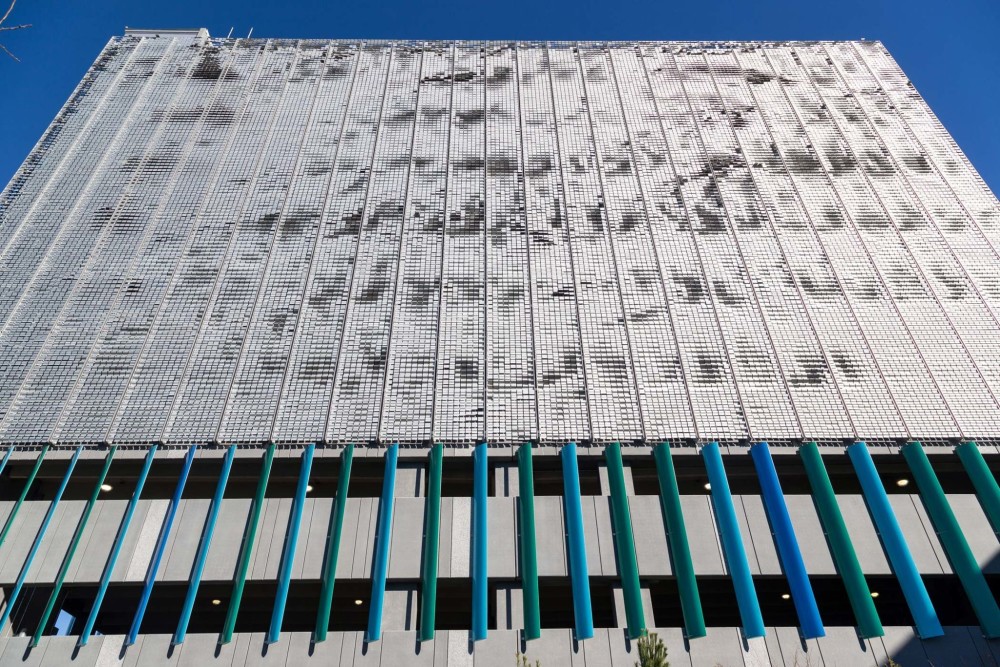 More than 48,000 aluminum flapper panels that move in response to wind currents comprise the façade of Boston Logan International Airport's new 10-story West Garage Extension, designed by Arrowstreet Inc.
Finished in Class I clear anodize, the 152.4-mm (6-in.) square curved flapper panels are set within 353 extruded aluminum framing support assemblies spanning eight stories high by 88 m (290 ft) wide.
Subjected to 209-km/h (130-mph) winds to test resiliency, the system's high-performance anodize finish also contributes to its durability. This material is commonly used for exterior building design features and other products that must withstand continuous outdoor exposure.
"Various shapes, material thickness, and finishes were tested, resulting in the curved anodized aluminum pieces that reflect light and ripple with the breeze," noted David Bois, principal at Arrowstreet.
The 6392-m2 (68,880-sf) garage extension is part of a $4.4-billion investment over the last 10 years by Massachusetts Port Authority (Massport) to build a new runway, roadways, terminals, taxiways, and garages for the airport.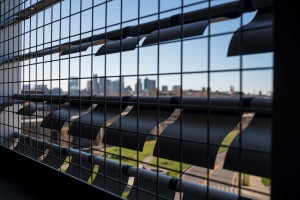 The new garage is integrated into the airport's existing central parking, walkways, and adjacent terminals. Situated over the existing Hilton Hotel parking lot, it is the airport's tallest parking structure and offers 1700 more parking spaces. According to the design team, the garage optimizes the experience for passengers and its dynamic façade enhances the view for the traveling public and visitors of the nearby 9/11 Memorial and Hilton Hotel.
Installation of the custom-made façade began in November 2015 and was completed in January 2016. (Turner Construction Company and WSP | Parsons Brinckerhoff served respectively as the general contractor and engineer for the building. Massachusetts-based glazing contractor, Ipswich Bay Glass Company, installed the dynamic façade.)
"The move from the mass-produced to a more custom approach in design and construction provides for new possibilities, which parallel clients' rising expectations," Bois said. "Without the collaborative process, this unique installation could not have occurred within the budget or the project schedule. Simple, common components come together to form an uncommon result."