by Steven Heinje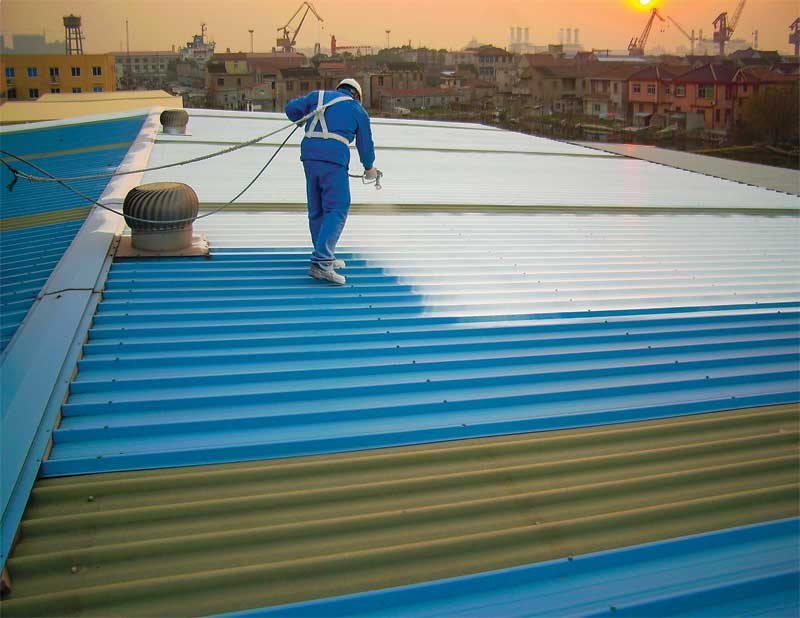 In the last two decades, the improved technologies of silicone, acrylic, and polyurethane have become better integrated into basic roofing practice, not only expanding the range of roofing applications but also competing successfully against the traditional asphalt coatings used for maintaining traditional built-up (BUR) roofs. Today, most manufacturers of entire roof assemblies also have a coatings line, including at least two of these four technologies.
In this article, roof coatings will be viewed as materials that may include reinforcement ("liquid membrane" applications) or not ("coating" applications). Most roof covers are manufactured as sheet goods or panels, which serve as the primary waterproofing in an assembly. Finally, a "coating" shall be viewed as functional rather than cosmetic, in contrast to many paints and finishes. This will be accomplished without delving deeply into important specifics of the chemistries and grades of coatings.
The "why" of coatings
The value propositions for coatings include maintenance, energy savings, tax incentives, leak repair, and less disruption than a total tear-off. In terms of sustainability, some of the advantages are urban heat island mitigation, reduction of landfill waste, solar energy efficiency, and roof runoff capture and reuse. Obviously, these benefits have climatic and regulatory implications. Nevertheless, many of these drivers have key conditions making them worthwhile.
Maintenance can mean protection from heat buildup, or reduction of heat history of the underlying roof cover, as well as protection from ultraviolet (UV) damage and moisture intrusion. Even in cold regions the impact of short, hot summers is significant because the effect of heat is exponential, making the average temperature a poor guide. In summer, a black roof in the north may age about eight to 16 times faster than in early spring. Degradation from heat, UV, and water are almost always combined and additive in nature. Since coatings address all of these, they can make an extremely effective weather barrier. A high percentage of the current building inventory was constructed with black roofs that are at least half way through their service life, and in many cases, a coating application can extend this service life five to 10 years. Roofing valleys and parapets on white single-plies often retro-reflect the sun's rays, making coatings a simple mitigation to ensure a longer lasting roof in these areas. Finally, water shedding can be enhanced with a coating, dark- or light-colored, when the underlying roof has become rough and irregular or has exposed edges.
Energy savings in urban centers may be peak-demand energy based, which can tilt the economics of cool roofing in favor of white coatings. Utilizing white, reflective coatings on sun-exposed HVAC ducts and electrical conduits employed in solar power assemblies can improve energy efficiency. These opportunities exist even in very cold regions.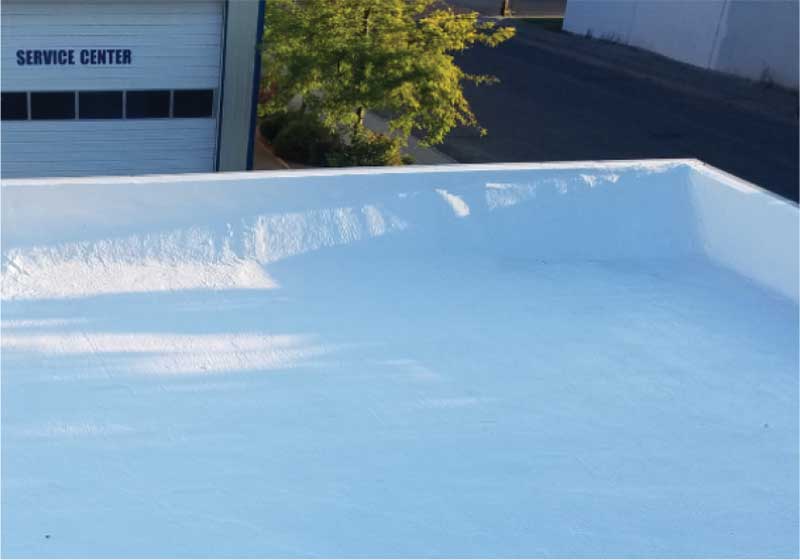 Best practice for leak repairs is to always use in-kind materials such as an asphaltic patch or sheet for an asphalt roof cover. However, reinforced coating patches can make sense over various dissimilar roofing materials. Most coatings are much more permeable than the roof covers they protect, allowing trapped water to escape over time. This is an important advantage when a full retrofit with new insulation is not justified. Following a small repair with a coating application over a larger area can prevent the adjacent areas of a repair from failing soon after the original leak is addressed.
Commercial owners often find a tax advantage in claiming the entire cost of a coating application in a single year when compared to the typical expensing of capital projects such as a complete reroof.
Sustainability drivers come in the form of government and corporate mandates, aspirational guidance from organizations like the U.S. Green Building Council (USGBC), and even the building owner's input. Often underestimated, value-driven choices are the "who." If the economics are close, values may become the tipping point issue for using a liquid coating. For instance, reroofing every 20 years—a common practice—is out of step with what one expects from most building materials. Houses more than 100 years old have been maintained by simply repainting them. Generally, one does not replace or re-side but instead maintain the siding with coatings. Roof coatings can provide an extension of this ideal, which some clients will gravitate toward.