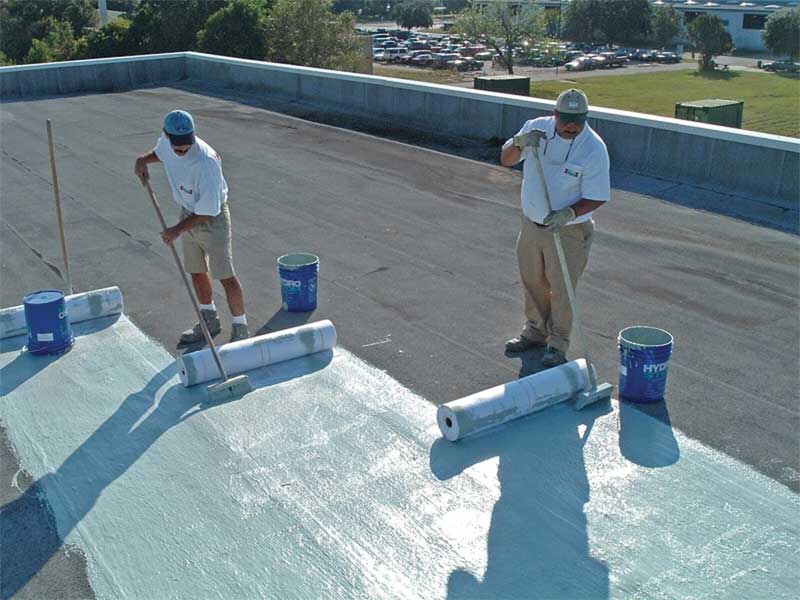 White single-plies
Although considered "cool roofing" materials, white single-plies (e.g. chlorosulfonated polyethylene [CSPE], polyvinyl chloride [PVC], ketone ethylene ester [KEE], and thermoplastic polyolefin [TPO]) may experience premature aging due to retro-reflectivity in valleys and parapets. Due to age or manufacturing variation, the reinforcing scrim may be too close to the surface, leading to localized maintenance needs. As previously mentioned, in-kind material repairs is best practice. This is especially true of these sheet goods. However, many of these repairs can be prevented. The key is to coat the roof before the degradation allows significant exposure of the scrim. The case here is not as strong as is the case for mod-bit—typically, maintenance coatings are applied to a five- to 10-year-old roof with the expectation it might add another five years to the service life. Since coatings and liquid membrane systems exist for use on all single-plies, it is possible to consider an appropriate coating application for premature weathering or a liquid membrane system for a roof with failing seams. Non-maintenance applications for color coatings include logos, graphics, or a simple change in original color. Changing color may alter the temperature of the underlying roof cover and impact its performance.
Complex roofs
Complex roofs pose a unique set of challenges. This type of construction might be utilized for a laboratory, hospital, historic structure, large commercial, or high-rise residential building with numerous protrusions and surface-mounted equipment. Liquid membranes using poly methyl methacrylate (PMMA), SPUR, and urethanes work well on complex roofs for high-value buildings, as they are seamless, fully adhered, and completely adaptable to irregular shapes and complexities. In retrofits, the new membrane becomes an extension of the original roof cover, and is generally of higher performance and greater in thickness than most coatings. Typically, PMMA or urethane membranes are around 2 mm (2000 µ) thick compared to a typical two-layer coating application at about 0.6 mm (600 µ). Acrylic membrane systems are also employed in fully reinforced applications, using premium materials and thicknesses above 1.2 mm (1200 µ).

Sprayed polyurethane foam
Sprayed polyurethane foam (SPF) and coating is an entirely site-manufactured system requiring more skill and workmanship than many other roof covers. Being sensitive to temperature extremes and moisture during application and cure, it is a seasonal product that should be specified accordingly using an experienced professional. However, it is self-flashing, fully adhered, seamless, and offers the most effective insulation. It suits the complex roofs, and dry and tight roofs needing more insulation, since it can be applied over existing roofs. Foam is often coated with silicone when installed in more humid climates.
Conclusion
Figure 1 provides a list of preferred coating applications but is by no means comprehensive. Mod-bit and metal are maintenance applications enhancing the existing assembly and extending its life. Single-ply is a large and growing segment of roofing that can benefit from coating even if with a more limited scope of use. These three applications can be in-house for most roofers. The last two cases are complex roofs and SPF—these are cases where the unique attributes of liquids come into their own. These options fit roofs that would otherwise be arduous projects. Liquids and especially SPF may require subcontractors, but they also allow hybridization of a traditional approach with a liquid roofing membrane when it works best. These systems are designed to augment the strengths and minimize the limitations of traditional roofing within the parameters of contemporary construction.
Steven Heinje is the technical manager of liquid-applied systems for GAF. He has degrees in biology and chemistry, along with an MBA. Heinje has more than 30 years of experience in roof coatings, specializing in acrylic elastomers and urethane coatings. He is chairman of the Roof Coatings Manufacturers Association (RCMA) codes task force and leads several task groups in ASTM D08 roofing, as well as maintaining active memberships with American Society for Quality (ASQ), RCI, Reflective Roof Coatings Institute (RRCI), and the American Chemical Society (ACS). Heinje can be reached at sheinje@gaf.com.