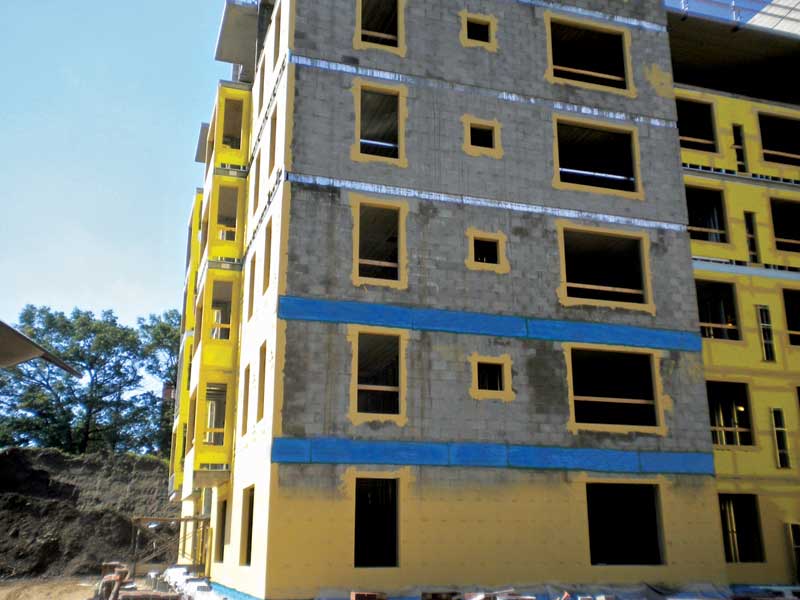 Installation is fairly easy with silicone assemblies. In this case, silicone sealants may be used as the adhesive for the extrusion membrane. Once the sealant has been applied to the surface, the extrusion is pressed into the sealant and smoothed out to remove air bubbles. Additional sealant may be used along the edges of the extrusion to ensure an air- and watertight seal similar to how the mastic is used with the self-adhered membranes. The difficulty with silicone-based assemblies comes from their compatibility with other components within the air and moisture barrier system.
Unfortunately, not all silicones are created as equals. That means before constructing an air and moisture barrier assembly with silicone sealants and extrusions, compatibility between the components must be verified. Typically, this is not a problem when considering the silicone components because a single manufacturer will very likely offer both the sealant and a compatible extrusion. What about the other components of the system, though?
The drawback of silicone systems is typically the cost of the materials. A silicone extrusion can cost more than five times the price of a similarly sized self-adhered membrane. While higher performance comes from the silicone extrusion, it is often more than what is necessary, and the self-adhered membrane (or any number of other products) will suit the detail well enough.
For this reason, silicone sealant and extrusion assemblies are frequently connected to components composed of different chemistries. Unfortunately, silicone does not adhere well to a large number of these components—therefore, compatibility between the various different components must be proven before application can occur.
Elastomeric cores in fabric facings
A new option in maintaining continuity of air and moisture barrier systems in movement conditions comes in the form of an elastomeric core encased in a fabric facing. Due to the elastomeric core, these fabric-faced transition membranes feature a high degree of flexibility similar to silicone extrusions, allowing for continuity of the air and moisture barrier systems as the building expands and contracts over time. The fabric facing on these products becomes critical for proper installation as they are used exclusively in fluid-applied air and moisture barrier systems.
The process may seem familiar, but in many ways it is much simpler than what is done with both self-adhered membranes and silicone extrusions. In fluid-applied systems, a coating or liquid membrane is used to cover the field of a wall, as well as all critical details. These liquid membranes form a structural bond with the substrates to which they are applied, creating fully adhered air and moisture barriers once cured.
To maintain continuity at movement areas, the same coating used on the field of the wall can be used as a 'bed coat' to press the fabric facing into. Using the same coating, the edges of the membrane can be sealed with a top or edge coat. Since liquid barrier products fully bond with themselves, the transition membrane becomes completely embedded within a monolithic air and moisture barrier system. Loss of adhesion is unlikely to occur because the cured membrane has formed a structural bond with the substrate. Tearing is unlikely to occur because the fabric facing transition membrane will expand and contract with the building. Further, unlike self-adhered membranes, these products do not have problems with tenting or wrinkles and their cost is a fraction of the cost for silicone extrusions.
Of course, there are still factors that need to be considered with this type of product. Due to the fabric facing, the membrane is sealed to the building via a liquid—the properties of this liquid membrane itself may dictate limitations in regards to application sequencing and timing. Additionally, any material that interacts with the liquid membrane must be evaluated to ensure adhesion occurs at the time of installation and will not be compromised over time. As with all assemblies, mockups should be constructed and tested to verify the wall system will function properly and that components are compatible with one another.
Conclusion
There are numerous ways to keep air and moisture barriers intact in building envelopes, even at those areas experiencing movement. There is no one product ideal for every situation, but understanding the need and understanding the options allow us to make good decisions from both a design and installation standpoint.
John Chamberlin is the director of business development at Sto Corp. Prior to this position, he served as product manager for StoGuard and StoEnergy Guard, focusing on heat, air, and moisture management within the building envelope. Chamberlin earned a Master's Degree in Business Administration at Atlanta's Emory University and is a graduate of the University of Tennessee, with a Bachelor of Science degree in Marketing. He can be reached by e-mail at jchamberlin@stocorp.com.