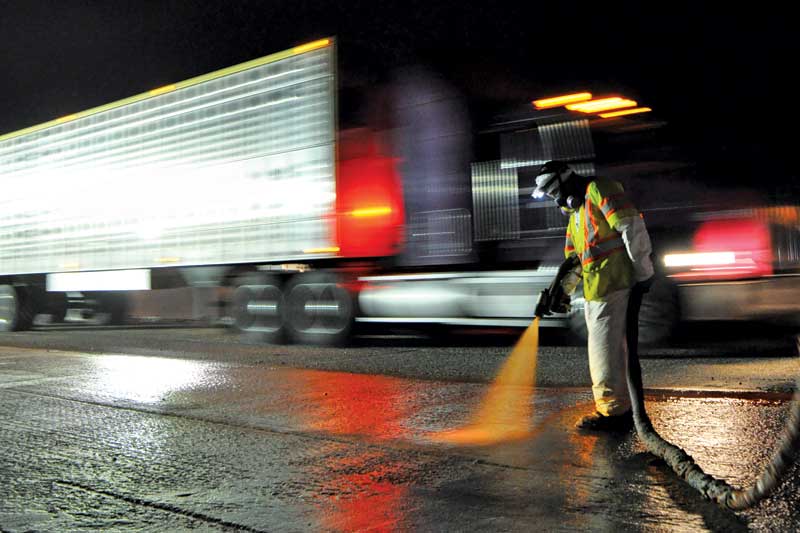 Some notable physical properties of a spray-applied elastomer waterproofing system include:
tensile strength greater than 13,789 kPa (2000 psi);
elongation greater than 250 percent per ASTM D638, Standard Test Method for Tensile Properties of Plastics;
tear strength (PLI; Die C) greater than 390 per ASTM D624, Standard Test Method for Tear Strength of Conventional Vulcanized Rubber and Thermoplastic Elastomers;
adhesion to concrete greater than 1034 kPa (150 psi) per ASTM D7234, Standard Test Method for Pull-off Adhesion Strength of Coatings on Concrete Using Portable Pull-off Adhesion Testers; and
adhesion to steel greater than 2068 kPa (300 psi) per ASTM D4541, Standard Test Method for Pull-off Strength of Coatings Using Portable Adhesion Testers.
When bridges are traditionally sealed, the decks need to be resealed almost every five years. The introduction of spray-applied waterproofing materials, on the other hand, can last five decades or more. This saves time and money because it does not require the repeated removal of asphalt overlay, the resealing of the deck, and repaving of the surface—not to mention saving the required lane closures. Perhaps most importantly, it would stop rebar corrosion and concrete spalling in decks to keep infrastructure safely operating.
Spray-applied elastomer waterproofing material not only provides a continuous, seamless waterproofing membrane—even on irregular surfaces—but it also has a coefficient of linear thermal expansion similar to steel and concrete. These properties, along with its engineered durability, allow the material to be used as a composite within asphalt layers.
It can be sprayed horizontally, vertically, and overhead at any thickness, as well as applied at specified thickness in one continuous application. Spray-applied waterproofing can also be applied robotically at greater speeds and consistencies than other materials.
It is possible to consistently spray waterproofing material over 929 m2 (10,000 sf) of deck per day with 2032 to 2159 µm (80 to 85 mils) on any surface when using a robot. This material is also desirable for its crack bridging capability and fast setting and curing time. It passes ASTM C836-00, Standard Specification for High Solids Content, Cold Liquid-applied Elastomeric Waterproofing Membrane for Use with Separate Wearing Course, for 3-mm crack-bridging at 80 mils, can be applied in temperatures as low as –28 C (–20 F) without affecting setup or curing, and can set in 10 seconds.
For the Metra Bridge project (Orland Park, Illinois), Pine Waterproofing and Sealant installed nearly 650 m2 (7000 sf) of spray-applied waterproofing material. When measured, the bond strength readings were more than 6894 kPa (1000 psi) at 80 mils.
In another concrete application with a very irregular surface at the Chicago Department of Transportation (CDOT) the bond strength measured 4136 to 5515 kPa (600 to 800 psi) at 80 mils thick. The project involved applying 6038 m2 (65,000 sf) of material and the bridge needed to be re-opened as soon as possible. The contractor was able to install over 2787 m2 (30,000 sf) of 80 mils spray applied waterproofing material and 1016 µm (40 mils) of topcoat with aggregate within seven days. The job was completed within four weeks.
As part of a comprehensive quality control/quality assurance (QC/QA) program, daily readings—such as environmental conditions and bond strength—should be taken and recorded for these waterproofing projects.
In critical, high-traffic highway and rail bridge projects, speed of application, setting, and return
to service is a particular advantage of spray-applied waterproofing material because they minimize downtime. Some products can even accept ballast and asphalt overlays one hour after application.
To further illustrate the emphasis on importance of speed, many in the industry are turning to accelerated bridge construction techniques in addition to fast-cure waterproofing. This process involves using prefabricated bridge elements and systems such as composite decks manufactured offsite, which are then installed with closure pours and then appropriately waterproofed. This expedites the project, improves quality, reduces traffic impact, and lowers total lifecycle costs.
"When we did the Metra Fast 14 project, we had to complete a bridge project in essentially one weekend," explains MassDOT's Bardow. "Within that time, we had to demolish the existing bridge, set prefabricated bridge units for the new one, do all the closure pours, have the concrete set, then come back to spray-apply waterproofing membrane. The contractor accomplished this, and the speed of spray-applied membrane installation was an important factor in meeting the accelerated deadline."
Bardow says a spray-applied membrane is standard for accelerated bridge construction for MassDOT projects.
"With the large number of closure pours we do, we were also concerned about effectively waterproofing them so water intrusion does not become a problem over time," he explains.