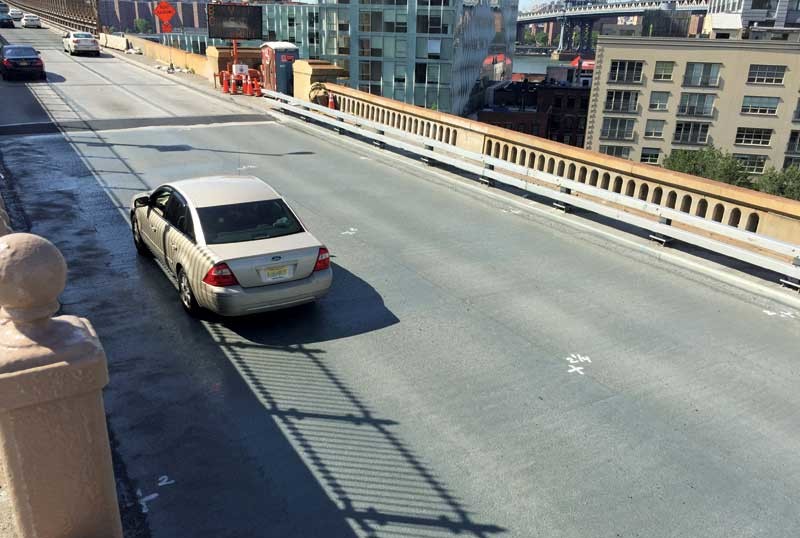 Accessories available
While new spray-applied waterproofing technology has enabled more durable, cost-effective concrete and steel infrastructure protection, it has also opened the door to complementary technologies. For instance, to more thoroughly waterproof the entire bridge deck structure, a highly flexible expansion joint has been developed using the same coating chemistry as the waterproofing membrane. When used in conjunction with spray-applied waterproofing, these expansion joints form a high-strength chemical bond providing a single, monolithic layer of waterproofing across both the joints and bridge deck.
Demanding rail bridge applications requiring additional protection against ballast impact can use ballast mats to provide seamless, high-build protection of the waterproofing system with a secondary protection course. These mats must pass the Ballast Impact Test (loading 9.2 to 45 Kips [9200 to 45,000 lb] two million cycles). Some can do this with no damage and be open to ballast loading in one hour.
To provide DOTs with a wide-open window of time to get the asphalt wear course down, a slow-setting, 100 percent solids, high-strength elastomeric coating can also be used on projects requiring an aggregated topcoat—allowing live traffic to drive on the waterproofing membrane for up to two weeks. The slower-setting resin allows aggregate to be broadcast into it before initially set. The topcoat can be applied in temperatures as cold as –28 C without affect on setup time or curing when applied at its specified thickness in one continuous application.
New spray-applied waterproofing is designed to reliably span decades without ongoing maintenance. Civil and structural engineers have a valuable tool to help cost-effectively maintain critical infrastructure while minimizing downtime.
Del Williams is a technical writer based in Torrance, California. He writes about health, business, technology, and educational issues, and has a degree in English from C.S.U. Dominguez Hills. He can be reached at del.williams@powerpr.com.