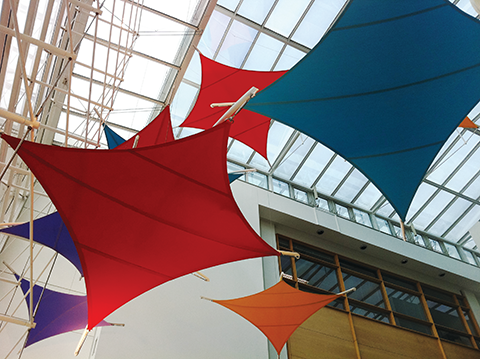 by Richard Wilson, B.Sc.
Skylights are effective for allowing daylight into buildings. However, this needs to be properly managed to ensure spaces are not flooded with too much daylight and the risk of glare is mitigated.
The amount of solar radiation coming through horizontal and inclined glazing is much greater than vertical façades, and this can cause significant heat gain issues. As a result, it is important the shading of skylights is addressed during the design process and an effective approach is taken.
The graphs in Figures 1 through 5 show the levels of incident solar radiation by elevation for a building in Indianapolis, Indiana. Each graph shows the amount of radiation by time of day and month.
On the north elevation (Figure 1), there is only background radiation, which remains at a broadly consistent level. The south elevation (Figure 2) is interesting—because the higher sun angles during the summer, the level of radiation on south-facing glazing is greater in the winter than the summer. The radiation levels on the east and west elevations (Figure 3 and 4) are almost mirror images of each other. The highest levels of incident radiation occur during the summer, in the morning on the east elevation, and during the afternoon on the west.
The amount of incident solar radiation, however, is significantly greater on roof glazing (Figure 5) for almost the whole year. It is noticeably more in the summer when heat gain is an issue and needs to be dealt with by the HVAC system. To get a more specific understanding of solar gains entering the building, based on the same area of glazing for each situation, it is possible to look at the average daily levels shown in Figures 6 and 7 (page 2).