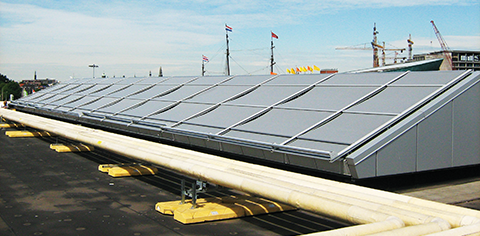 As an alternative to the rack-arm system, larger-scale louvers can be used. These are generally produced from extruded aluminium, but other materials such as wood or glass can also be used. Moving to larger louvers means greater spans between supports. The system's weight, however, will be much greater than the case with a rack-arm system. Whereas the rack arm system can weigh less than a pound per square foot and can be attached directly to the skylight, large-scale louvers will generally be fixed to the main building structure and may need additional steel framing to support the applied load.
These larger louvers can be fixed or operable. As with the rack-arm system, the louvers will not retract, but—depending on the drive mechanism's design—can be rotated through 360 degrees if required. Since the system components are larger and more robust than the rack arm system, louver systems can also be designed to withstand all weather conditions—wind, snow, and ice—and exterior systems can therefore be used on projects throughout North America.
Conclusion
It is apparent many different approaches can be taken to shading a skylight. Some of the options blend in with the building architecture, whereas others can have a significant visual impact and become an important element of the building's design. In all cases, however, properly designed skylight shading systems can make an important contribution to building performance, controlling both heat gain and natural daylight.
Richard Wilson, B.Sc., is a consultant to Draper Inc., and has been working with the company to introduce a range of exterior and specialty shading systems. He has been involved in the solar shading industry for more than 20 years. Wilson can be contacted by e-mail at rwilson@draperinc.com.