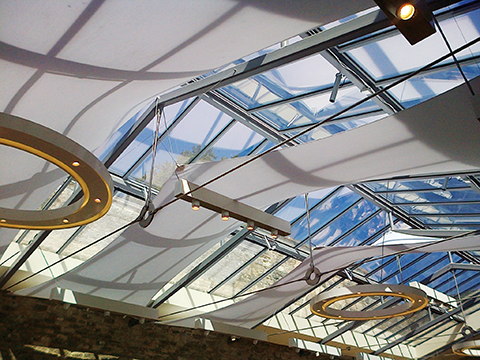 As with a standard roller shade, various fabrics can be employed in skylight tension systems in terms of weave structure, openness factor, and color, giving different performance criteria regarding visible light transmittance (VLT), solar performance, and view-through. For a common weave structure and openness factor, lighter fabrics provide a greater level of VLT and have a better solar performance than darker-colored ones. However, view through the fabric will not be as good. Twill-weave fabrics incorporating different color yarn in the warp and fill directions can have a lighter side and a darker side. If the lighter side is installed to face the glazing, a reasonably good balance between solar performance and view can be achieved.
There is also an alternative to a standard tension system. This product uses a motorized drive system, but is made up of numerous fabric panels attached to a series of spring roller tubes. Two fabric panels are attached to each spring tube which means as the system is deployed—one is wound off the top of the tube while the other is wound off the bottom.
The spring roller tubes and the hem bar run in side guides, which also carry the drive cords that deploy and retract the system. The design means the system can achieve substantial draws and can cover any orientation of glazing—horizontal, vertical, and inclined without applying any tension load to the skylight structure. If the tracks are curved, barrel vaults can also be shaded. The system's construction also means it can withstand substantial wind loads when installed on the exterior.
Further variations to the idea of a retractable fabric system include horizontal roman shades (sometimes referred to as 'tenditos') and sail shades. Sail shades are similar to a standard motorized roller shade, but instead of a spring tension mechanism, they use counterweights to provide some tension and enable the fabric panels to be deployed. With a standard fabric tension shade, the aim is for the fabric panel to be as flat as possible. With sail shades, however, a much more sculptural effect can be achieved with the amount of curvature of each panel being dependent on counterweight's size. Given this curvature of the fabric panels, sail shades are generally only appropriate for larger atrium spaces. As can be seen from the image of the Peabody Essex Museum (Salem, Massachusetts.), there are relatively large gaps between adjacent panels and, as with kites, these systems are generally used in public spaces rather than in environments where occupants are working with computers.
Fabric alternatives
As an alternative to fabric, louvered systems can also be used. The most flexible option is the non-retractable louver or rack-arm system. As the name implies, the louvers always remain above or below the glazing—they can be rotated, however, from the fully open position to fully closed. The system's design means it can be installed on any type of glazing—horizontal, vertical, or inclined. It can also address almost any shape of glazing including rectangular, circular, and trapezoidal openings.
The system is made up of numerous rack arms. These are aluminium extrusions incorporating pivot arms and clips onto which the slats or louvers are connected. Each rack arm also incorporates a drive mechanism so when a number of them are connected together with a drive shaft, rotation of the shaft results in the slats being rotated from open to closed or vice versa. The slats themselves are relatively small profiles ranging in size from 50 to 145 mm (2 to 5 ¾ in.), which means the spacing between the rack arms is generally somewhere between 76 and 127 mm (3 and 5-in.)—depending on the slat profile selected and whether the installation is interior or exterior. Where possible, the rack arms are aligned with the skylight structure.
There is also an extruded aluminum profile that interlocks with the adjacent one to provide high levels of light exclusion. There will, however, be some light ingress around the system's perimeter so the system will not achieve complete blackout.
The rack-arm system can be manually operated by means of a gearbox or crank handle, or alternatively, can be motorized. Motorized systems generally incorporate a tubular motor mounted onto one of the rack-arm profiles and connected to a reduction gearbox, which, in turn, is connected to the drive shaft. In standard configuration, the slats take approximately 15 seconds to move between the open and closed position allowing fine light control to be achieved. Due to this, the system is often used in museums and galleries and on other light-critical installations. In these situations, an automatic control system can also be specified to allow light levels to be maintained within a defined range.
In addition to extremely good light control, the system can also reduce the heat gain. If the system is installed on the interior, solar control depends on solar energy being reflected back through the skylight. A greater reduction in heat gain will be achieved, however, when the system is installed on the exterior. The system has been tested in a wind tunnel at speeds up to 160 km/h (100 mph) and has been installed on projects in locations such as the Caribbean and Hong Kong. There are, however, issues with ice due to numerous small, rotating components that can freeze up. As a result, the system can only be used on the exterior in certain locations in North America. In the northern United States, the system will be primarily installed on the interior.