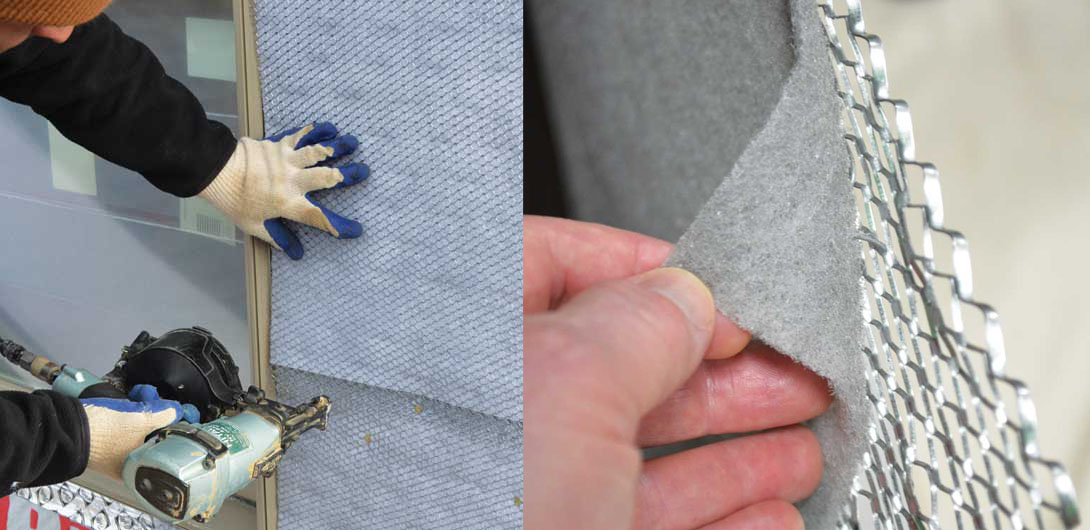 In adhered masonry walls, a through-wall flashing is unnecessary. A weep screed is installed at the bottom of the wall a minimum of 101 mm (4 in.) above grade (UBC Code Section 4706 [e])and the WRB is installed shingle-fashion so it drapes over the screed flange to allow water to run down the WRB and out of the screed weep holes. A drainage plane between the lath and WRB is necessary to ensure moisture can run down the WRB and air can circulate behind the lath to dry the wall. Products that combine a factory-assembled metal lath and drainage plane in one system can significantly cut installation time compared to installing a drainage plane and lath separately. They also provide a mortar break to prevent mortar bridging between the lath and WRB, so the wall can drain and dry quickly and completely (Figure 6).
Anchoring systems
Finally, anchoring devices must be specified to tie the masonry veneer to the structural backup. While this is a critical component of a masonry wall's stability and longevity, designers frequently leave the choice of wall anchors to the contractors. These authors strongly recommend designers specify anchors with the same care they use on the rest of the wall.
In cavity walls, the anchors must be properly sized to span the cavity and be corrosion-resistant. As cavities get larger to accommodate thicker ci, it becomes more important to properly engineer the anchors for sheer strength. Stress-distributing air/water sealing washers are important to allow the anchors to be pulled tightly against the continuous insulation layer, which effectively seals each anchor penetration against air and water leaks. For adhered masonry walls, nails or staples typically used when lath is attached directly to the structural wall may not be strong enough when using ci and must also be properly engineered. With adhered masonry, the fasteners support a large part of the veneer's weight so they must be able to resist both sheer and pulling forces.
Conclusion
Economic pressures, a desire for improved sustainability, and increasingly stringent energy requirements are forcing designers to find new ways to improve wall performance while making the architect and contractor's job faster and less risky. The labor shortage is also driving the industry in order to find more efficient building techniques to meet growing commercial construction demand.
Specing and installing pre-tested and warrantied 'complete wall systems' addresses all these issues. These wall systems eliminate the need for designers to evaluate system testing and compatibility among multiple wall components. They slash design time, reduce designer and contractor risk, save contractors money by cutting installation time, and help stakeholders create a beautiful, long-lasting, and sustainable building of which they can be proud.
Herbert Slone, RA, is Owens Corning's senior manager of commercial building systems and a registered architect. With 40 years in construction he is OC's chief architect, providing leadership in building envelope systemization. Besides working as an architect, he has also worked as a building official and university instructor, has authored articles and chaired industry committees, and was appointed by Ohio's Governor to the Ohio Board of Building Standards. Slone can be reached at herbert.slone@owenscorning.com.
Art Fox is marketing/communications director for Mortar Net Solutions. He ran several construction companies
in the 1970s before becoming the company's first chief operating officer, and has been involved in helping grow
the company since its founding. Fox has also taught business writing and communications at Depaul University since 2003. He can be reached at afox@mortarnet.com.