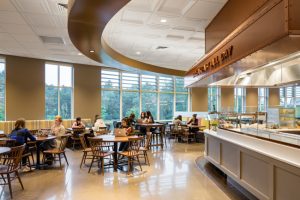 A student cafeteria does not have to feel like one. Created by Boston design firm Bergmeyer, the 1000-seat, state-of-the-art, din­ing cen­ter at Mount Holyoke College in South Hadley, Massachusetts, offers an inviting, personal experience that evokes some of the school's long ​tradition of inti­mate din­ing rooms. An important element of that effect is the ceiling.
The ceiling system features thermoformed panels that meet the strict standards for food service areas and provides visual elegance. It is also combined with conventional flat mineral fiber panels that are used over seating areas around the periphery.
The designers sought a look reminiscent of residential settings rather than commercial design. They wanted a ceiling with a sense of style, a coffered look.
Thermoformed ceiling panels, made from lightweight rigid vinyl and available in a variety of 3D patterns, offered a solution that met the codes for food service areas, and were more affordable than plaster, wood, or mineral fiber coffers. The panels drop into standard 0.6×0.6-m (2×2-ft) or 0.6×1-m (2×4-ft) ceiling suspension grids, and allow access to the above ceiling cavity.
Bergmeyer's original design called for two patterns of thermoformed panels: one with coffers about 64 mm (2.5 in.) deep, and a similar coffered look created by 13 mm (1/2-in.) deep molding. Later, the design was expanded to three styles. Instead of projecting downward, the molding is recessed into the ceiling, creating a shape that looks similar, yet shifts how shadows and highlights play across the ceiling and enlivens the overall effect. Exact placements were decided during construction, since the panels are easy to move and not subject to damage.
The different types of ceiling panels are blended together through a 'gradated' transition. "We tried to make it look organic," said Krista Easterly, interior designer at Bergmeyer. They concentrated the panels over the food service areas, the salad bar, and the deli. "That ceiling needs to be cleanable," explains Easterly, "so it was good that it is a washable panel." The thermoformed panels extend over the first adjacent zones of seating and then disperse outward, giving way to the flat panels.
Achieving acoustical control was not a problem either, despite the hard-polished concrete floors and floor-to-ceiling glass walls. The panels, which dampen noise by leveraging the viscous mass of air in the above-ceiling cavity, were installed with acoustic blankets on the upper surface for additional control.
The dining commons was designed to meet Leadership in Energy and Environmental Design (LEED) Silver. Panels are Greenguard Gold certified and can contribute to LEED credits for acoustics, low-emitting materials, and indoor air quality (IAQ).