by Murray Jenkins, AIA, NCARB, LEED AP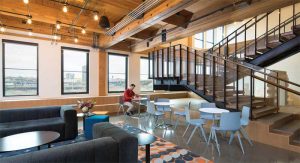 Workplaces are now tasked with inspiring creativity, recruiting talent, promoting mental well-being, and even encouraging employee productivity. It is a big ask for workplace designers, but materials like wood are helping them answer it.
Wood is being used in both structural and interior workplace design. The resurgence of mass timber is being driven by affordability, aesthetics, and sustainability. Rapidly developing materials like cross-laminated timber (CLT) and dowel-laminated timber (DLT) are providing an increasingly advanced supply to meet the demand. The extended capacity of timber is catching on quickly and regulators are working to adapt to the situation. This November, the International Code Council (ICC) will vote on new model codes for taller mass timber buildings. In Oregon, measures were approved by the state's Building Code Structures Board in August.
Traditional Type IV heavy timber code is used primarily for timber warehouses. This code requires non-combustible protection for concealed spaces within the building and limits building height to five stories. The measures approved by Oregon's Building Code Structures Board expand Type IV heavy timber construction codes to define Type IV-A, Type IV-B, and Type IV-C construction types. This expansion defines three new code paths for mass timber structures up to 18 stories tall (Type IV-A), 12 stories tall (Type IV-B), and nine stories (Type IV-C), each with their own set of requirements for fire resistance and structural protection. Designers now have a clear code path to develop taller mass timber buildings with enclosed spaces needed for building offices, as well as code provisions for leaving the wood structural elements exposed.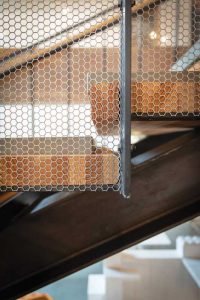 Case study: Six-story mixed use
In 2014, Ankrom Moisan Architects (AMA) was in search of a space for their headquarters in Portland, Oregon. Hoping to leave behind the Class A office of its past, firm leadership agreed the ideal location would be a renovated, timber-framed warehouse. With more than 200 Portland-based employees, the firm needed approximately 3716 m2 (40,000 sf) of space. However, after considering more than 25 locations, they concluded feasible warehouses did not exist within the central city. As a solution, the firm partnered with developer Gerding Edlen on the new construction of 38 Davis on a vacant, urban site in Portland's Old Town Chinatown District. AMA had worked with Gerding Edlen on several projects throughout the western United States, and the two shared the goal of a positive impact on the triple bottom line—people, planet, and prosperity. Integrating mass timber and other wood elements into the building's design was an integral component of a new office encompassing these values.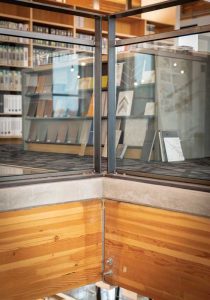 38 Davis is a six-story, 11,519-m2 (124,000-sf), mixed-use building with a five-story timber-framed structure over a concrete podium. Designed and built prior to the new Type IV-A, Type IV-B, and Type IV-C code provisions for mass timber construction, it was constructed as a Type III structure over a Type I podium. Type III provides a code path for a timber structure up to five stories tall. By placing the building on a Type I, fire-resistant podium, designers could achieve a Type III structure that is six stories tall, large enough to house the firm's headquarters, mixed-use space, and separate residential floors. The podium now houses retail as well as classroom spaces for the University of Oregon's Portland campus. The upper floors, within the mass timber structure, contain three levels of offices and two levels of residential space. Encompassing 5388 m2 (58,000 sf) and three floors of the building, AMA is the largest tenant.
Building type and design concept
AMA and Gerding Edlen faced a unique set of building code challenges when designing 38 Davis. At the time of design and construction, there was no clear building code path for taller mass timber buildings with exposed structural elements.
At the time, Type IV construction with traditional heavy timber had limitations on height, exposed structural elements, and concealed spaces. With a need to conceal piping, utilities, and duct work systems in certain areas, designers had to choose between Type III and Type V-A building code. If 38 Davis was constructed as a Type V-A structure, all exposed structural elements had to be fire-rated for one hour. Type III-A also requires the wood structural elements of the building to be covered or oversized for fire protection, which would compromise the aesthetic.