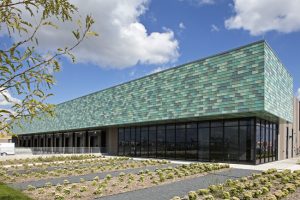 Loading docks generally are not known for their stylishness, but a new structure at the Minneapolis-Saint Paul International Airport in Minnesota is breaking that tradition. The addition of glass curtain wall and a protective overhang clad in copper-toned metal tiles has created a visual pop in the airport's runway area.
The loading dock was designed to solve logistics and security problems common to many major airports. Beyond program requirements, airport officials also had design guidelines to ensure a visual connection between the new and existing structures.
Minneapolis-based Miller Dunwiddie Architecture opted for an arrangement of metal tiles in a palette of three standard polyvinylidene fluoride (PVDF) finishes, along with a custom-aged copper color matching the airport's standards. The tiles' cupped profile enables a unique play of light and shadow creating a sense of movement across the face of the building's overhangs. More than 650 m2 (7000 sf) of tiles were installed on the building.
"The idea was to have a range of colors that, if you stood back and squinted, it would look natural, like a green tree canopy," says Philip Koski, AIA, project designer with Miller Dunwiddie.
Getting the tile's patterning right took close coordination between the architects and installers.
The installers ran the architects' four selected finishes through a color-randomizer app in a back-and-forth effort to identify positioning for each installed tile. A challenging aspect was the building corners where the design called for the tiles to appear to wrap around those bends.
The installers put up the overhang's soffit with panels featuring a unique, four-sided reveal and fabricated their own trim for the installation.