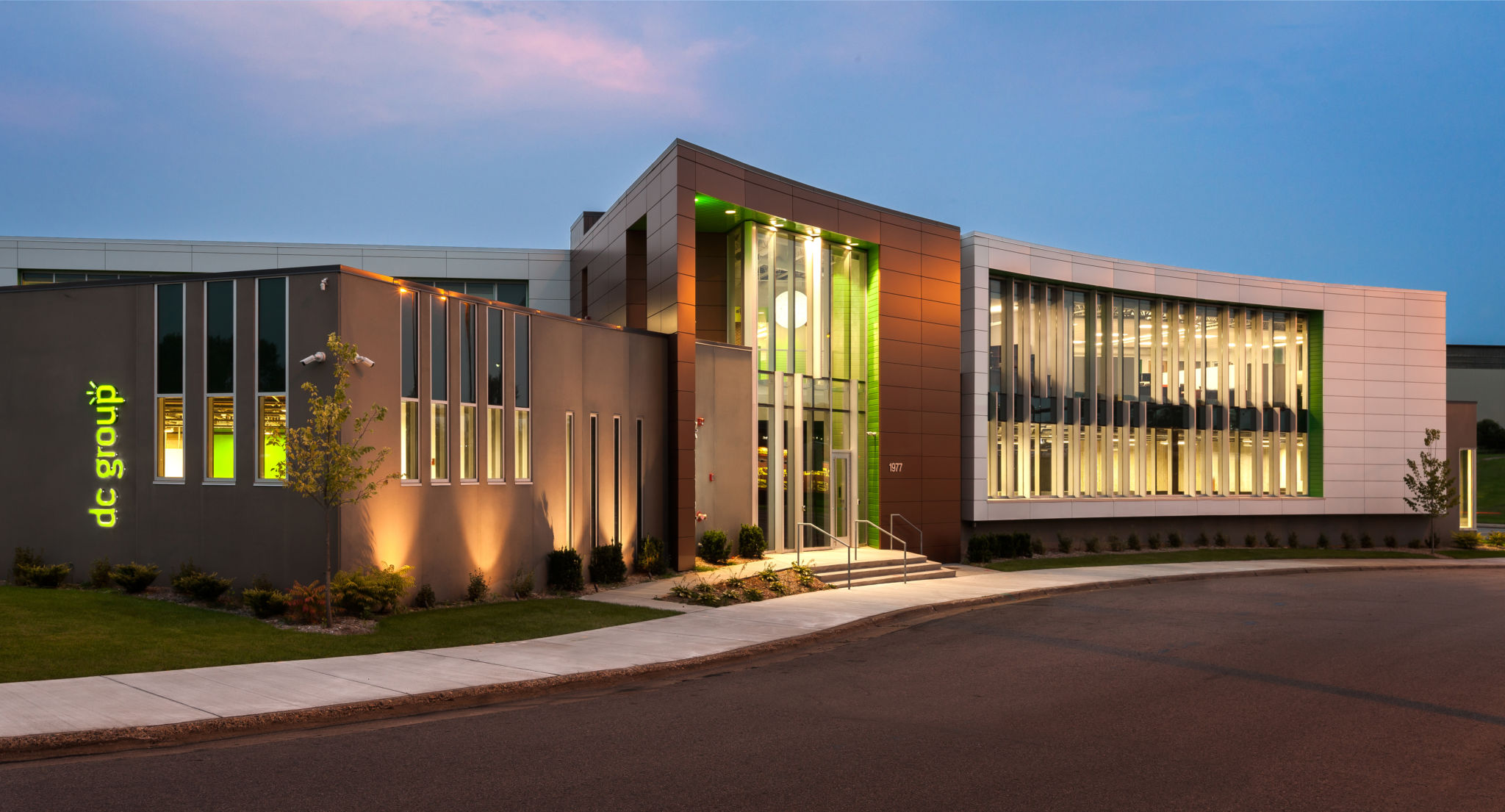 A proprietary extruded aluminum curtain wall is at the heart of the renovation of an office building in Minneapolis.
The two-story commercial-industrial space houses DC Group, a firm that provides equipment and maintains uninterruptible power supply (UPS) systems for corporate customers, including AT&T, Kaiser Permanente, Verizon, Microsoft, and Oracle.
Constructed in 1978, the original 1300-m2 (14,000-sf) building was in need of a makeover to reflect DC Group's prominence and growth over the years. Since its founding, the company has grown to 140 employees from 41, while its revenue has risen from approximately $5 million to $28 million annually. The renovation project added another 2787 m2 (30,000 sf) of space to the building.
To reflect the high-tech business's brand, UrbanWorks Architecture proposed a contemporary design blendeding DC Group's new and existing structures using glass, metal, and concrete.
The former facility was almost invisible in its typical mid-80s commercial-industrial plainness, the expanded facility, with its visible branding and exterior lighting design, presents as a gateway to West River Road.
Helping achieve the project's aesthetic, performance, and economic criteria, the design team specified a proprietary curtain wall system, featuring extruded aluminum and anodized mullions incorporated as extended exterior fins.
"Installed on the eastern elevation facing the river, this dramatic curving curtain wall creates an interesting rhythm and design motif," said David Miller, a project designer with UrbanWorks. "On the interior, it offers access to daylight and panoramic views."
The design also features proprietary thermal doors with 254-mm (10-in.) bottom rails, along with interior framing and doors for the vestibule, executive offices, and large conference room. Framing and doors are finished in a Class I clear anodize to enhance the systems' durability and metallic aesthetic.