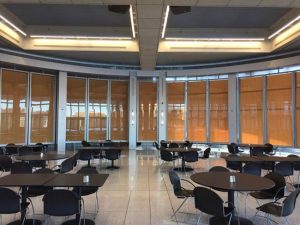 The Ecolab headquarters in St. Paul, Minnesota, was transformed using custom high-end rotating glass doors featuring a distinctive design and engineering technology.
Instead of the typical request for platforms or seating risers, McGough Construction Company, the primary contractor for the 35,303-m2 (380,000-sf) Ecolab project, enlisted a Minneapolis-based portable staging solutions provider to engineer a series of custom rotating glass doors for the new home of the water, hygiene, and energy technologies and services company.
The manufacturers created an aesthetically appealing, easily transformative wall that would allow Ecolab's large cafeteria space to be converted into a presentation hall.
The manufacturing team worked with the architect and contractor to re-design the large dining area into a multi-purpose space. The original steel frame structure was replaced with an aluminum frame to lighten the system and alleviate stress on the floor while also reducing cost.
Thirteen doors were specially designed to surround the perimeter of the cafeteria. Made of sleek, yet sturdy, aluminum with custom glass infills, the doors create a modern backdrop and allow natural light to fill the space. They also offer an unexpected twist—the ability to rotate quickly and easily to convert the area into a presentation hall.
Additionally, when the doors are closed for meetings or other events, light from the outside shines through the glass panels creating a warm and welcoming environment.