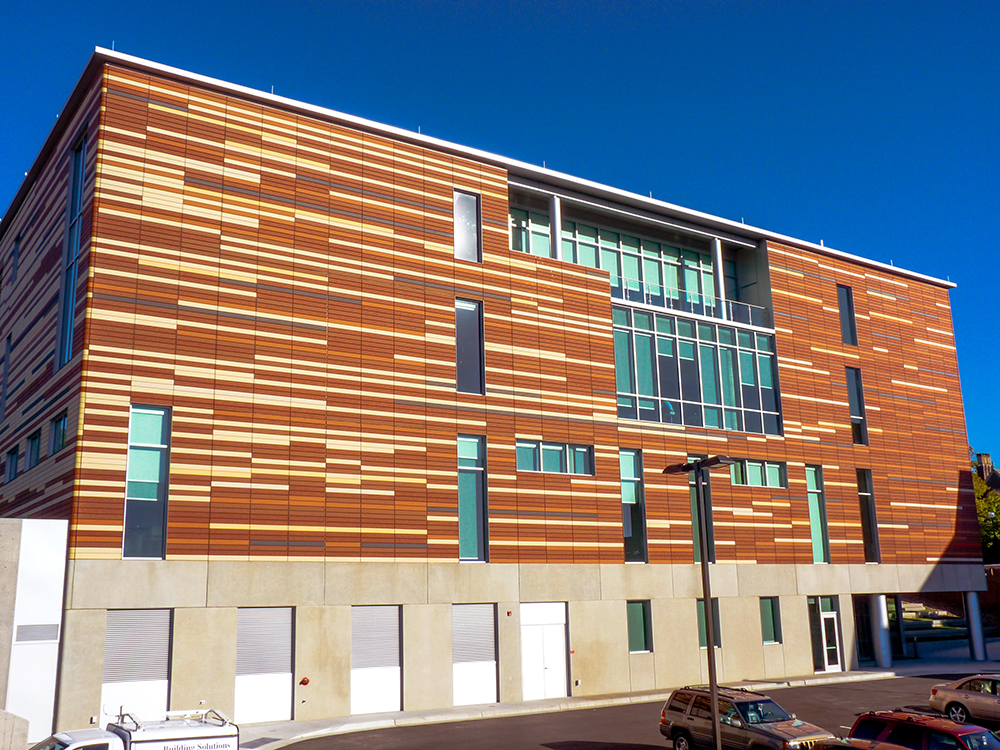 by Dirk McClure
The University of Missouri, located in Kansas City, boasts the country's first terra cotta-clad insulated composite precast concrete panels assembly.
Before this installation, terra cotta had been clad into non-insulated panels in a few projects. At the Henry W. Bloch Executive Hall for Entrepreneurship and Innovation, however, terra cotta tile was clad onto 1783 m2 (19,200 sf) of 3.6-m (12-ft) wide insulated composite precast concrete sandwich panels.
Designed by BNIM Architects and Moore Ruble Yudell, an important aspect of the project's scope was to ensure it maintained the aesthetic of the university's campus as a whole. The modular appearance of the five-color terra cotta pattern provided the desired masonry appearance.
Rather than specify a conventional rainscreen cladding system, the project team relied on the terra cotta to provide a rain barrier. A cost analysis by the general contractor also demonstrated terra cotta clad into an insulated precast sandwich panel would yield a 25 percent cost saving over a steel frame and air barrier application. The joints were concealed to provide the aesthetic of a more traditional rainscreen.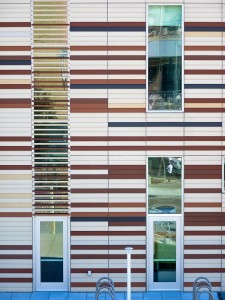 Designers outlined the seemingly random pattern of the terra cotta tiles. Every 152 mm x 1.2-m (6 in. x 4-ft) section of this five-color tile pattern was sorted by the precaster. The terra cotta was then cast into the panels in their offsite production facility. The use of sealants kept the gray-colored precast set back and invisible on the finished product. Two sides of the building feature darker red colors on the terra cotta, which complement the adjacent brick masonry campus buildings. The panel's interior faces were left exposed in areas, with a sandblast interior finish. This helped reduce volatile organic compounds (VOCs) by limiting the use of paint.
The continuous insulation (ci) used in the assembly met American Society of Heating, Refrigerating, and Air-conditioning Engineers (ASHRAE) 90.1, Energy Standard for Buildings Except Low-rise Residential Buildings, requirements. The precast high-performance insulated wall panels used to connect concrete wythes provided a low thermal transfer system and contributed to the project's overall thermal mass goals. The extruded polystyrene (XPS) panels achieved an R-value range of 16.37 to 17.65. Finally, the radiant heating mechanical system was installed under the floor.
Thermal performance, high-performance integrated design and overall sustainability were also goals outlined by the project team. The project incorporates energy efficiency and daylighting strategies, and is targeting Gold certification under the U.S. Green Building Council's (USGBC's) Leadership in Energy and Environmental (LEED) program.
Tests were performed to determine the correct level of using terra cotta in an insulated panel. These tests included determining:
coefficient of thermal expansion;
allowable bowing factor;
optimal tile thickness; and
freeze-thaw cycles.
Finally, full precast mockup panels were also designed and poured before the project was in full production.
Dirk McClure is regional director of sales and business development for Enterprise Precast Concrete. He has a bachelor's degree in interior architecture from Kansas State University. McClure currently sits on Precast/Prestressed Concrete Institute's (PCI's) International Sustainability Committee and is a NCIDQ Certificate Holder, LEED Accredited Professional, and a member of the Construction Specifications Institute (CSI) Kansas City Chapter. He can be contacted by e-mail at dmcclure@enterpriseprecast.com.