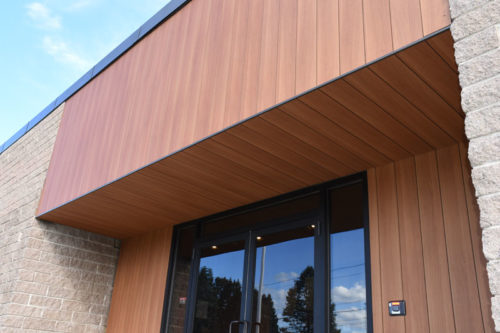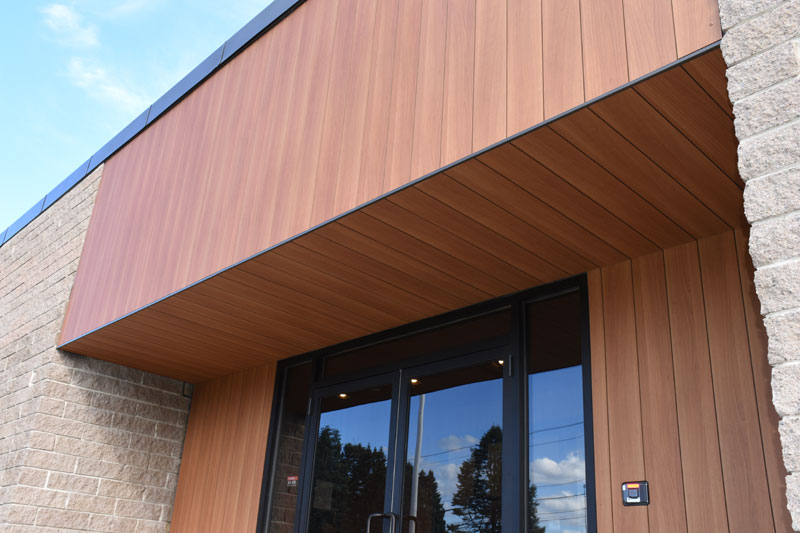 Sometimes the outside can be what counts in the commercial building market—particularly for buildings like 130 Addison Road, a multi-tenant mixed-use building in Windsor, Connecticut.
"In today's economy, it is critical to create a product that attracts commercial tenants, and a place where they can feel proud to hang their sign at a location that matches their business standards," says Erik Bartone, principal of 130 Addison Realty, LLC.
This 3530-m2 (38,000-sf), 40-year-old building houses two tenants (a national logistics company and a wholesale electrical product supplier), and required a modern, aesthetically appealing, and resilient façade to meet their business needs. Although other renovation efforts such as paving and landscaping contributed to accomplishing these goals, the charge was led by a cladding retrofit to cover the concrete masonry unit (CMU) walls.
Proprietary exterior sidings—made from 70 percent natural fibers and containing thermosetting resins—were installed on the building, with 511 m2 (5500 sf) installed horizontally on the exterior walls and vertically in the front vestibule. A walnut color was chosen to emulate the look of wood and meet aesthetic objectives while still accomplishing the building owners' goals of low maintenance and visual differentiation. Tested for impact and ultraviolet (UV) resistance, the sidings are sustainably sourced.
Bartone says he was most interested in the siding "because of its unique product features, including the look of the flush-mounted cladding and its high-quality assembly and finish."
"Since the one-story building has a large roof surface area that requires constant maintenance, minimizing the maintenance requirements for the exterior cladding was crucial," he adds.
The cladding also helped contractors accomplish their goals, as its simple installation allowed them to meet the fast-paced eight-month construction schedule necessitated by building occupancy requirements.
"The building owners, tradesmen that performed the installation, and the tenants are extremely happy with the product," Bartone confirms. "Tenant customers have commented on several occasions that they like its appearance."