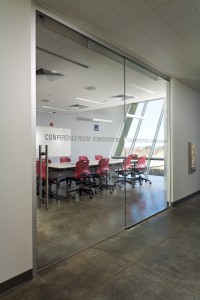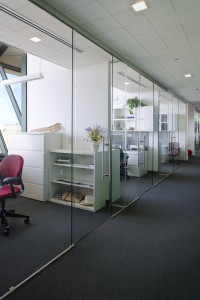 Opening in August of 2011, the San Diego National Wildlife Refuge Visitor and Administrative Complex (Chula Vista, California) specified frameless, interior sliding glass door assemblies to maximize on interior space and daylighting.
The $6-million, one-story administrative headquarters project for the U.S. Fish and Wildlife Service is 743-m2 (8000-sf) and contains administrative offices, visitors' center, multi-purpose room, maintenance facility, and laboratory. Designed by Line and Space LLC, the use of interior glass allowed the team to maintain a connection between the surrounding landscape and the facility's interior.
Separating the multi-purpose conference room and offices from the main hallway is a system of moveable and non-moveable glass-panel doors from floor to ceiling. These are installed using ceiling-mounted tracks to move, increasing the facility's clean look.
The extensive use of daylighting will not only offer occupants continuous views, it will also attribute to energy savings. The structure achieved the U.S. Green Building Council's (USGBC's) Leadership in Energy and Environmental Design (LEED) Gold certification for New Construction.
Located on the site of the only remaining saltwater marsh habitat in southern California, Sweetwater Marsh, the structure is situated on land previously disturbed, to not further disrupt the site. The building's exterior was designed with glass panes angled downwards, reflecting ground and not sky, to limit the number of birds colliding with it.
The facility consolidated operations previously being conducted amongst four off-site facilities. The new structure's addition allows the U.S. Fish and Wildlife Service to provide increased services including:
managing migratory birds;
protecting endangered or threatened species;
conserving and restoring terrestrial and aquatic habitats; and
protecting a biologically diverse habitat.
Other sustainable features incorporated into the design include:
use of a 30-kw photovoltaic systems converting sunlight into electricity with solar panels;
natural daylighting;
use of low volatile organic compounds (VOC) materials;
active and passive heating and cooling techniques; and
waterharvesting.