by Eric Jurus
The Beckwith Animal Hospital in Modesto, California, was envisioned with state-of-the-art equipment, sustainable features, and the comfort of its four-legged occupants in mind.
A veterinarian at the center, Michael O'Brien, PhD, envisioned an environmentally responsible structure that was also visually interesting. Pires, Lipomi + Navarro, a firm specializing in medical facilities, put careful planning toward both the building's look and function.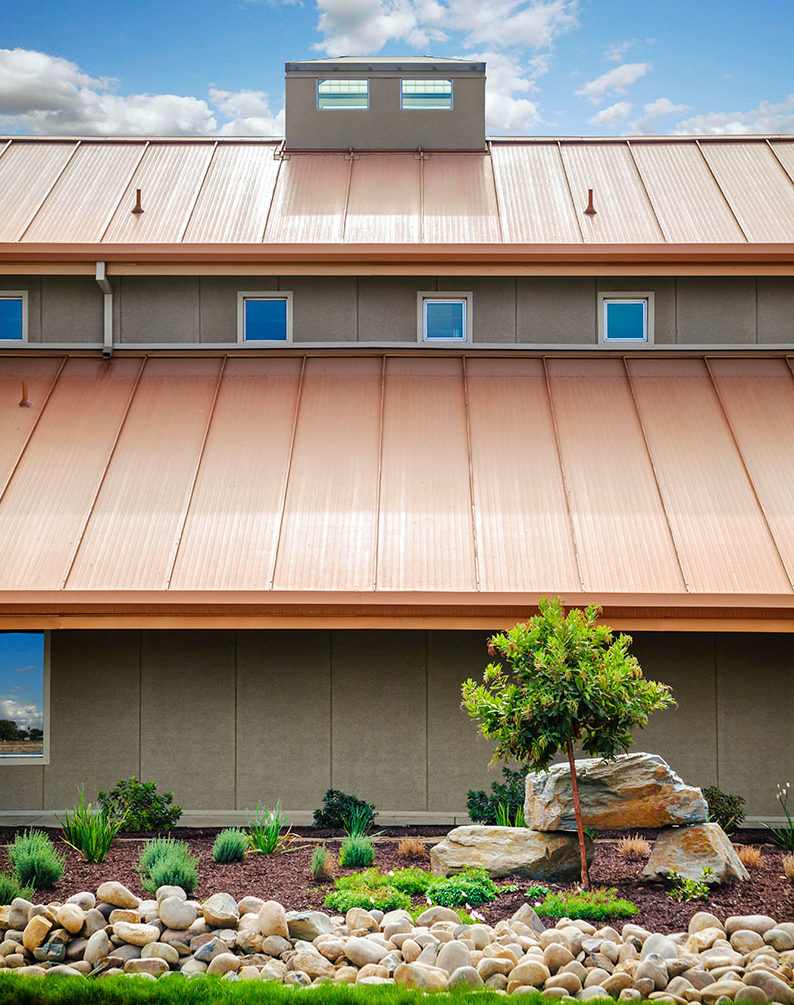 The project consists of two buildings—a 1300-m2 (14,000-sf) small-animal facility, and a large-animal center for livestock of about 278 m2 (3000 sf). The building's exterior has a round silo-type structure housing the elevator.
Additional design features include:
seven exam rooms;
six treatment tables;
intensive care unit (ICU);
dual surgery suite;
1.1 million-L (300,000-gal) cistern;
high-efficiency irrigation and drainage system;
photovoltaic (PV) panels; and
roof garden.
Since the roof system's performance is a key factor to energy efficiency and sustainability in any commercial structure, as well as a significant contributor to a building's exterior appearance and durability, a metal roof was specified. This feature enhances the stone façades and carefully designed landscapes, providing a sleek modern aspect to the facility's appearance.
On the exterior, 152-mm (6-in.) thick insulated standing seam roof panels in a copper color were specified, offering polyisocyanurate (polyiso) insulation performance clad in a protective, sleek look. Approximately 1300 m2 (14,000 sf) of material was installed on the roof. Additionally, the roof surface looks clean because there are no through-fasteners. The standing seam joint is mechanically zipped into place, so the fit is tight and does not permit airflow.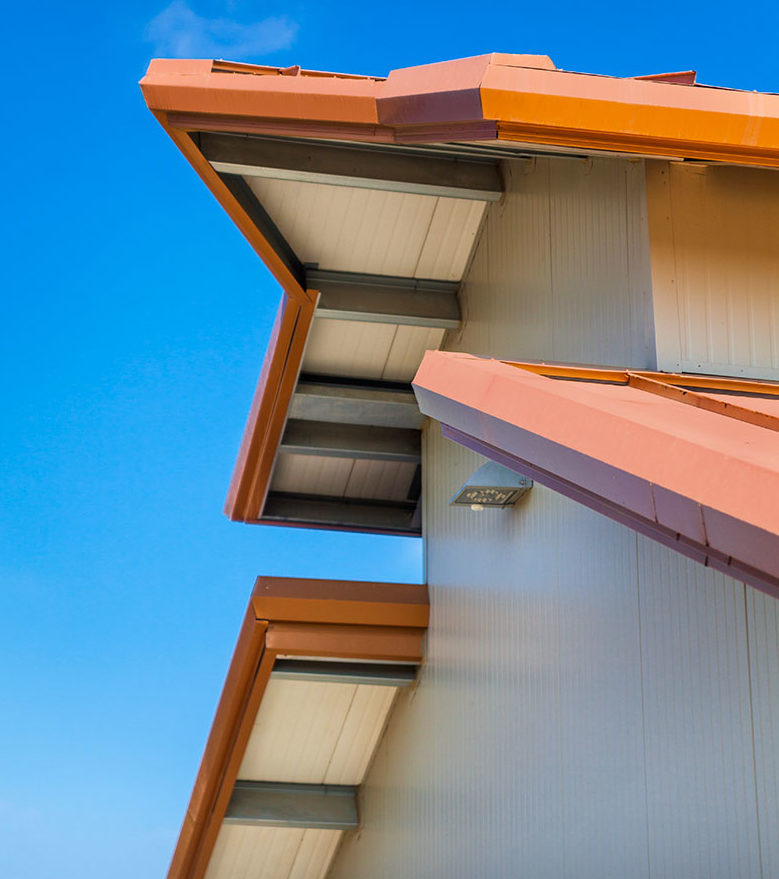 Quartz panels were installed on more than 650 m2 (7000 sf) of the existing wall. Both the roof and wall panels combine energy efficiency with aesthetics and increased speed of build. Each product incorporates a dense, polyiso core, with a design-specific exterior and interior face. The factory-applied finishes enable the panels to be installed onsite, increasing build speed, reducing installation costs, and simplifying logistics.
For the client, there was not only desire for a sustainable facility, but also a green construction process, with minimum disruption of physical surroundings, and efficient work and integration processes. The building was designed to be environmentally responsible throughout its entire life cycle.
From a performance standpoint, both the roof and wall panels provide airtightness and help reduce thermal bridging, causing the building's heating and cooling systems to be smaller for more efficient performance. The R-value is approximately R-70 in both the walls and ceiling. The building's exposures are positioned so photovoltaic (PV) panels, installed atop the roof panels, help reduce the energy the facility requires off the grid, and allows it to provide energy at optimal times.
The Beckwith Animal Hospital facility was constructed to achieve Silver under the Leadership in Energy and Environmental Design (LEED) certification program. The project also earned its design team a 2013 Sierra Valley Design Excellence Award.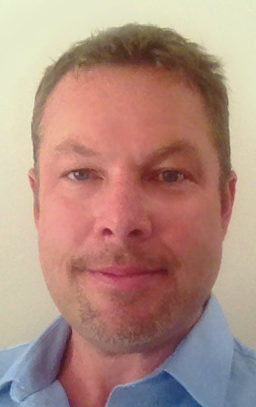 Eric Jurus is the regional sales manager with Kingspan Insulated Panel for California, Arizona, Nevada, and Hawaii. He has been with Kingspan for more than 10 years and was previously involved in the metals industry. Jurus can be contacted at eric.jurus@kingspan.com.