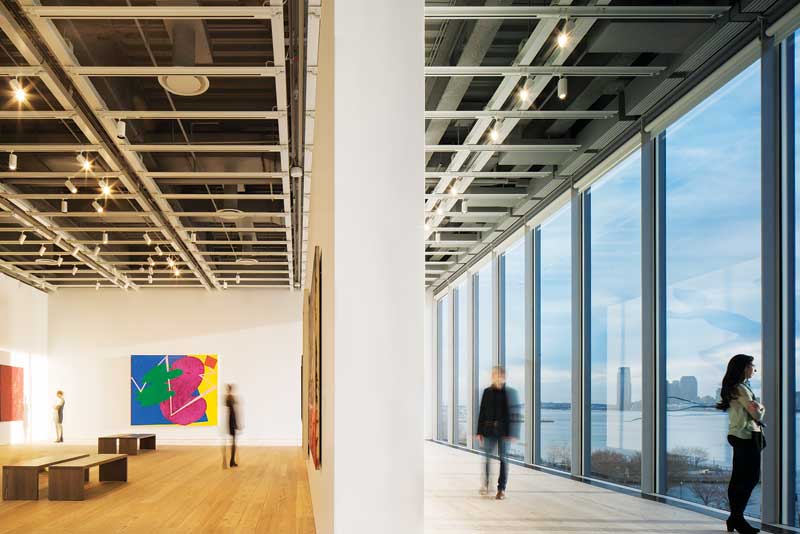 A robust tensile wiring system holds these shades in place and inhibits flutter. Several of the shades cover sloped window conditions, for which the geometry of the system precisely accounts by mirroring the same incline. In addition to protecting artwork, the shades minimize glare enough to allow gallery walls to be painted a neutral white.
As an alternative to light filtration using roller shades (which results in loss of exterior views), partitions can be constructed to separate glass from the main gallery space. The resulting zone between the glass and the partition may be used as a breakout space separate from the rest of the gallery viewing path. For the inaugural exhibition at the Whitney, "America is Hard to See," the museum constructed partitions in front of the glass façades at the fifth-floor galleries, which featured light-sensitive works. With these, the team created areas containing comfortable seating, affording visitors outstanding views of the Hudson River. ("America Is Hard to See" ran May 1 to September 27, 2015, at the Whitney Museum of American Art. The exhibition was organized by a team of Whitney curators, led by Donna De Salvo, the museum's chief curator and deputy director for programs.) The building's flexible design allows the curators to manipulate daylight in accordance with exhibition design programming, whether through active use of shades or temporary partitions.
During the process of lighting modeling and studies, a number of conditions were identified requiring multiple challenging mockups at the point of fabrication. The original specification offered shade manufacturer options, followed by the identification of the most suitable manufacturer.
Clerestory roof monitors, gutters, and tarps
On the eighth floor of the Whitney, where roof glazing brings abundant light into the gallery, the architecture incorporates clerestory monitors, which are one of the most effective systems conventionally used for filtering daylight in museums. In this case, the monitors feature a mixing chamber roughly 2 m (6.5 ft) deep—about half the typical depth. Facing north to receive diffuse rather than direct light, the system was modeled and calibrated through extensive daylighting studies. Light control within the monitors is provided by tensioned, bottom-up roller shades behind the glazing, which may be closed on bright days.
The design team also had to consider the impact of the clerestories on the exterior envelope of the building. The saw-toothed shape incorporates a multifunctional gutter system to remove water from the roof. The design of the system started with the code-mandated minimum—a calibrated 406-mm (16-in.) width—and this in turn determined the capacity of the drainage system. The gutter system has accessible, integrated gratings allowing for walkable access, so custom tarps may be clipped to the exterior glazing frames to attain an interior blackout condition when needed. The shape of the gutter underside, exposed in the gallery ceiling, was modeled for its geometry and reflectivity. The final form was strongly influenced by the daylighting models.