New developments in museum lighting design
by Katie Daniel | March 29, 2017 10:00 am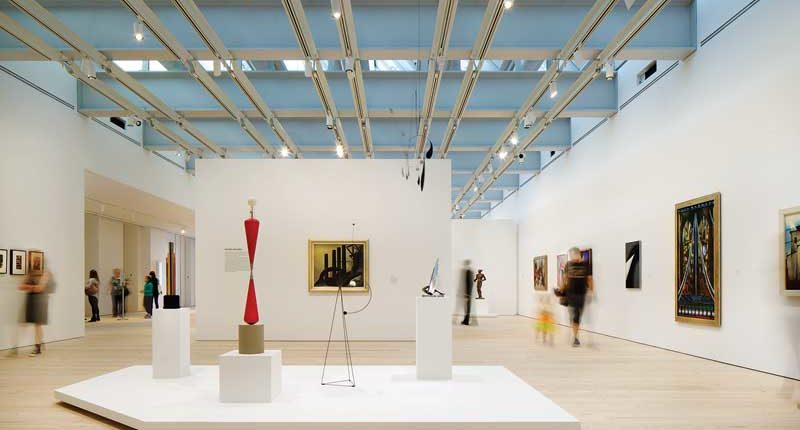 by Scott Newman, FAIA
Museums employ two key strategies for lighting works of art: daylighting and artificial or electric lighting. (The author would like to thank Thomas Holzmann and Gregory Weithman, AIA, for their contributions to this article.) For the Whitney Museum of American Art in New York City, architects Cooper Robertson and Renzo Piano Building Workshop collaborated extensively with Arup consulting engineers, as well as museum curators and conservators, to design suitable solutions for both imperatives.
Historical gallery design minimized daylight, maximized wall surface, and consequently turned museums and visitor experience inward. When architects did introduce daylight into galleries, it arrived heavily filtered through skylights or clerestories with laylights. Tall volumes of space above the laylights and below the exterior skylight functioned as daylight mixing chambers, employing several layers of filtration and diffusion before light reached the galleries below within an acceptable foot-candle range relative to the type of media on display. This system ensured daylight would not damage sensitive works of art, but also meant gallery visitors rarely had views to the exterior.
The new Whitney Museum of American Art represents a significant change in attitude toward daylight in galleries. The museum design provides a seamless indoor/outdoor experience on each gallery floor with a variety of opportunities to experience the city beyond.
Daylighting reduces the need for artificial illumination, allows works to be shown in the full light spectrum in which they were conceived, and accentuates the three-dimensional quality of sculpture. Technology and careful analysis of programmatic constraints enable this approach while still preserving safe light and environmental levels for the art.
Glazing, motorized roller shades, and flexibility
At the Whitney Museum, the use of glazing on all building façades—not solely those facing north—demonstrates the design possibilities enabled by technical invention. To incorporate this level of glazing, the design team employed insulated glass units (IGUs) with warm-colored edge spacers, as well as clear, low-iron glass with neutral coatings and minimal reflectivity and distortion. A polyvinyl butyral (PVB) and ultraviolet (UV) interlayer is sandwiched between the glass sheets, filtering more than 99 percent of harmful UV radiation. These measures alone are enough to protect the artwork from damage (except in direct sun) and increase the building's energy efficiency.
Interior roller shades throughout the museum allow for further modulation of daylight during bright times of the day. The Whitney's design team worked closely with the shade manufacturer to develop the appropriate technical approach to the light control systems. Shades are typically deployed from the ceiling, covering the windows as well as the doors, while interior and roof-mounted sensors track the daylight as it moves around the building. The shades are most often used in bright sunlight; on cloudy days or during the evening, they may be programmed to retract to allow maximum daylight.
For comprehensive control of light transmission, and to provide full sun exclusion from the windows, a 101-mm (4-in.) wide, graduated ceramic frit precludes light from entering the galleries via the 25-mm (1-in.) gap between the shades and the mullions.
Vertical façades within the museum's galleries are provided with two layers of motorized shades:
one for solar/glare control, which cuts down the intensity of light entering the windows; and
another for diffusion/light control, which disperses the light that does manage to filter in.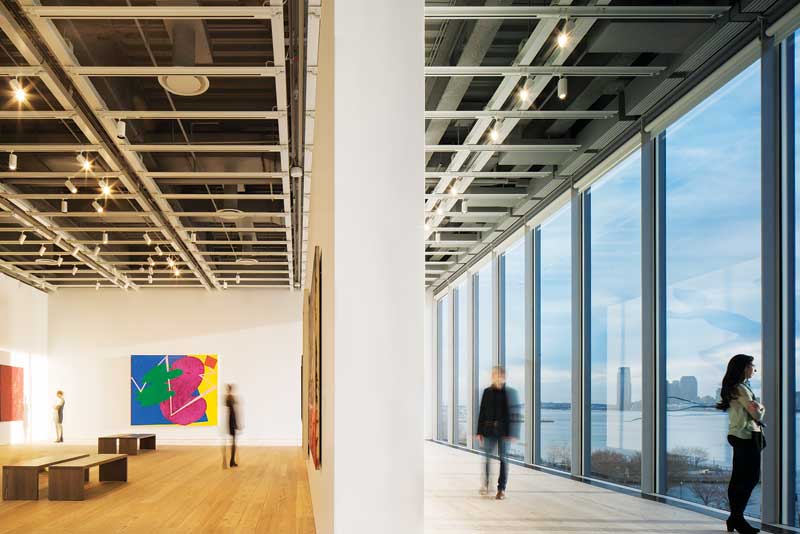 A robust tensile wiring system holds these shades in place and inhibits flutter. Several of the shades cover sloped window conditions, for which the geometry of the system precisely accounts by mirroring the same incline. In addition to protecting artwork, the shades minimize glare enough to allow gallery walls to be painted a neutral white.
As an alternative to light filtration using roller shades (which results in loss of exterior views), partitions can be constructed to separate glass from the main gallery space. The resulting zone between the glass and the partition may be used as a breakout space separate from the rest of the gallery viewing path. For the inaugural exhibition at the Whitney, "America is Hard to See," the museum constructed partitions in front of the glass façades at the fifth-floor galleries, which featured light-sensitive works. With these, the team created areas containing comfortable seating, affording visitors outstanding views of the Hudson River. ("America Is Hard to See" ran May 1 to September 27, 2015, at the Whitney Museum of American Art. The exhibition was organized by a team of Whitney curators, led by Donna De Salvo, the museum's chief curator and deputy director for programs.) The building's flexible design allows the curators to manipulate daylight in accordance with exhibition design programming, whether through active use of shades or temporary partitions.
During the process of lighting modeling and studies, a number of conditions were identified requiring multiple challenging mockups at the point of fabrication. The original specification offered shade manufacturer options, followed by the identification of the most suitable manufacturer.
Clerestory roof monitors, gutters, and tarps
On the eighth floor of the Whitney, where roof glazing brings abundant light into the gallery, the architecture incorporates clerestory monitors, which are one of the most effective systems conventionally used for filtering daylight in museums. In this case, the monitors feature a mixing chamber roughly 2 m (6.5 ft) deep—about half the typical depth. Facing north to receive diffuse rather than direct light, the system was modeled and calibrated through extensive daylighting studies. Light control within the monitors is provided by tensioned, bottom-up roller shades behind the glazing, which may be closed on bright days.
The design team also had to consider the impact of the clerestories on the exterior envelope of the building. The saw-toothed shape incorporates a multifunctional gutter system to remove water from the roof. The design of the system started with the code-mandated minimum—a calibrated 406-mm (16-in.) width—and this in turn determined the capacity of the drainage system. The gutter system has accessible, integrated gratings allowing for walkable access, so custom tarps may be clipped to the exterior glazing frames to attain an interior blackout condition when needed. The shape of the gutter underside, exposed in the gallery ceiling, was modeled for its geometry and reflectivity. The final form was strongly influenced by the daylighting models.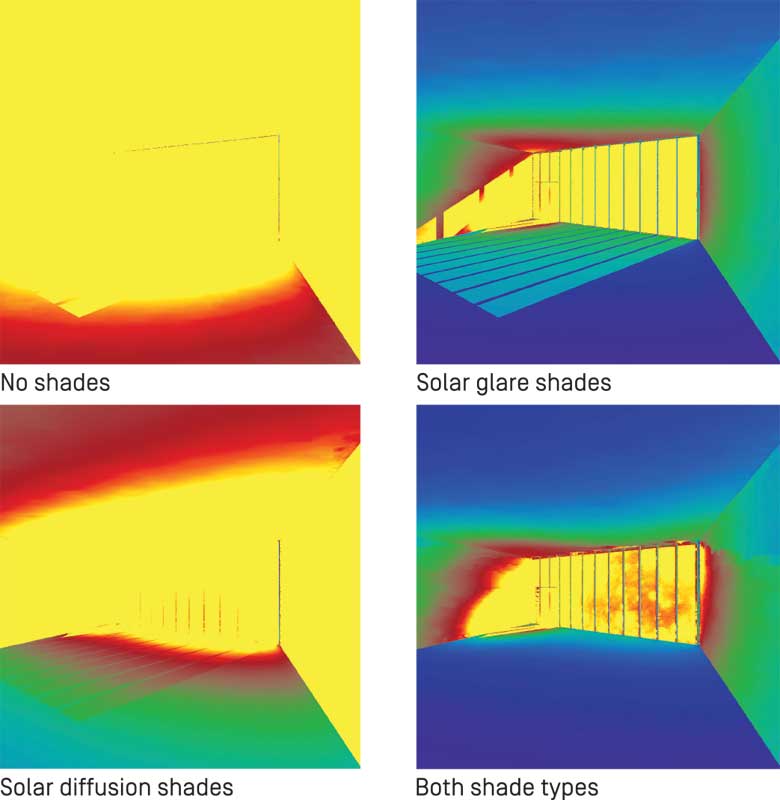 Benefits of LED lighting in museums
Museums have recently relied on tungsten halogen or incandescent lighting as the primary sources to illuminate art. This is principally due to the challenge of obtaining the high color rendering these conventional lamp types can offer—a feature not typically available through other lighting sources. During the gallery lighting design process for the Whitney Museum, light-emitting diodes (LEDs) emerged as a strong rival to conventional halogen lighting systems. LEDs offer longer lamp life, sufficient color temperature, and the high color rendering required in galleries. These lamp performance criteria were only achievable by a small number of LED products in 2010, and the design team maintained a 'wait and see' approach until they could be highly confident in the final lamp type selection.
As suitable product improvements became available from a broader roster of manufacturers, it remained critical to review LED lamp options as part of full-scale gallery mockups. Although evaluation of color metrics can help narrow down the choices, it was essential to provide mockups of light sources with similar light levels and similar paint finishes on similar artwork in test gallery conditions. There is no substitute for the human eye in spaces that have critical viewing applications.  After many months of testing and assessment of key attributes by the design team, curators, and conservators, a final determination was made to procure LED fixtures for the galleries from among a number of suitable vendors.
LED technology continues to evolve rapidly, and is now seen as a nearly inevitable source for illuminating new and existing museum galleries. However, some crucial considerations must be made.
Lamp life
LED lamps have a lifespan many times longer and life-cycle cost savings far greater than those allowed by incandescent or halogen lamps.
According to a 2011 study at the J. Paul Getty Museum in California, "the LED replacement lamp compares favorably against the incumbent 60-watt PAR38 halogen lamp, reducing power use by 83 percent and recovering the higher initial cost of the LED in year three of operation." (From the report, "Demonstration Assessment of Light-emitting Diode [LED] Retrofit Lamps," prepared in support of the U.S. Department of Energy [DOE] Solid-state Lighting Technology Demonstration Gateway Program in March 2012. It can be viewed here[5].)

LED lamps can last as long as 20 years with daily use of 10 hours per day (50,000 hours). Their greater cost compared with conventional lamps is anticipated to decrease over time.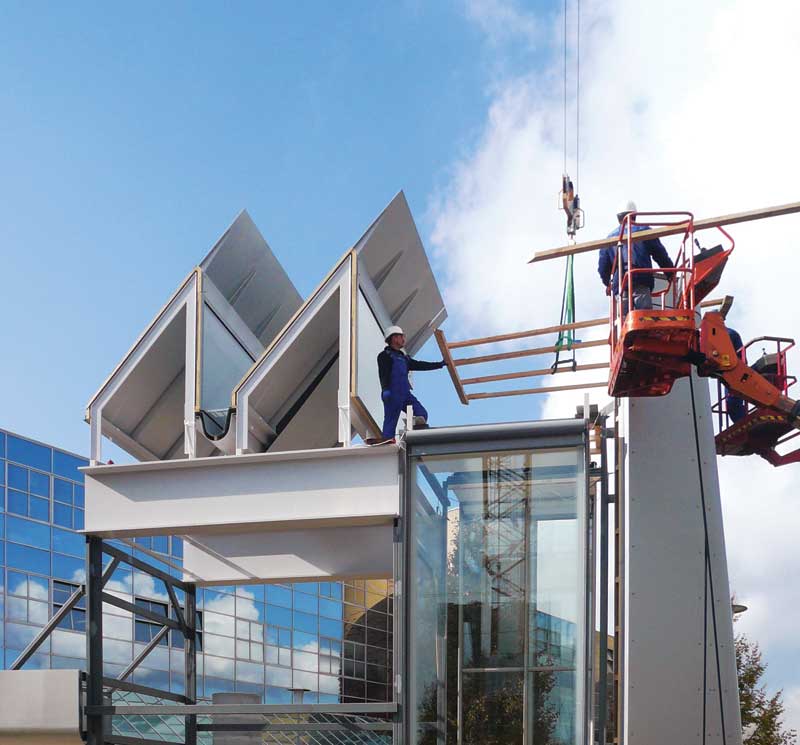 Color temperature
Color temperature is a description of the warmth or coolness of a light source. LED sources now allow for a fuller color spectrum, which renders museum objects accurately by the standards of many major institutions. LEDs are also available with a warm color spectrum particularly similar to that of halogen lamps. It is crucial to obtain LEDs from manufacturers with very tight control over consistency, since even LEDs with the same color temperature from the same manufacturer can look different. This is particularly the case with white sources. (For more, read Brian Stacy, Matt Franks, and Andrew Sedgwick's "Gallery Electric Lighting Report" from Ove Arup & Partners, New York, published in November 2010.)
Color rendering
The color rendering index (CRI) of a light source is a quantitative measure of its ability to reproduce the colors of objects faithfully compared to illumination by natural light. This may be the most significant factor to consider for gallery use, but maintaining a consistent color rendering has been a major challenge for lighting manufacturers. (Read "LED Lighting Overview and Opportunities" from Ove Arup & Partners, New York, published in November 2010.)
Cost and energy savings
Energy savings from LED lamps can be significant compared to those halogen offers. Maintenance costs may also be reduced, since the long lamp life of LEDs significantly reduces the replacement cycle duration of traditional lamps. This means maintenance needs may also be reduced in conditions where access
to lighting systems is difficult, such as in remote or very high locations. Limiting the hours required for skilled labor in hard-to-reach locations is a significant benefit.
On new projects, the higher initial cost of LED lighting systems may be offset by reducing overall lighting loads and thus the size of new building mechanical systems. Many major existing institutions, including the Smithsonian, Getty, and Metropolitan museums, have studied and begun to implement LED lighting in at least a portion of their galleries, while other new institutions (including the Whitney) have installed full LED systems in all galleries.
Conclusion
The Whitney's design demonstrates how a contemporary museum can accommodate daylight and views with flexibility and without compromising the conservation requirements of the art. The benefits of this approach are clear—a distinct and varied visitor experience using increased exterior transparency as inspiration for visitors and living artists, engaging the city beyond as an added layer in the curatorial narrative. Through the use of shading technology, LEDs, and innovative daylighting, the Whitney is a museum fully connected to its urban backdrop.
COMPOSITION OF A SKYLIGHT ROOF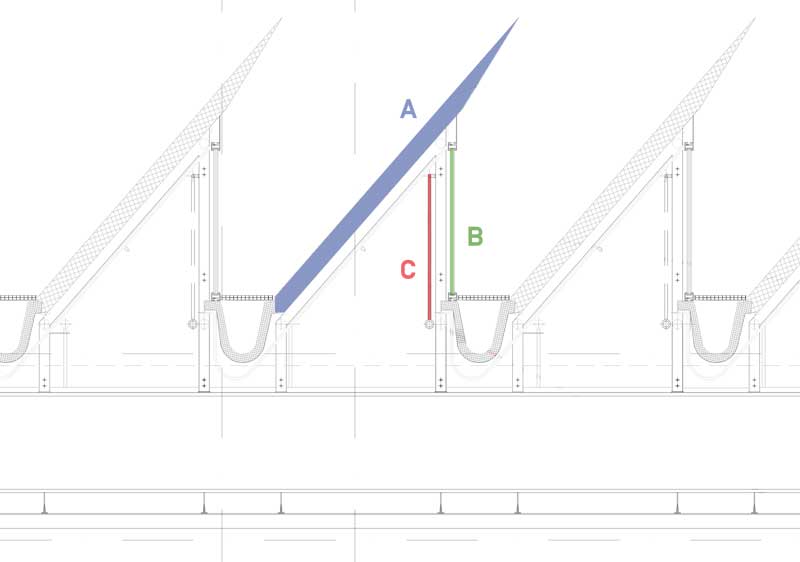 The Whitney's clerestory roof has the following components:
1. Inclined roof panels forming a sawtooth light system. These clerestories are opened to the north, and they prevent direct sunlight from passing into the gallery space for most of the year, while also allowing reflected and diffused sunlight to enter. The exterior surface of the inclined roof panels has a neutral matte finish to prevent specular reflections from sunlight.
2. Low-iron insulated glazing units (IGU) with laminated inner lites, providing ultraviolet (UV) filtration. Low-iron glass is used to maximize color rendering, along with low-emissivity (low-e) coatings, which have low heat-transfer properties and offer high light transmission.
3. Motorized roller shades in a bottom-up configuration. These are used to reduce daylight exposure outside the museum's open hours, block direct early morning and late afternoon sun, and regulate daylight transmission during open hours by variable deployment of the roller shades.
Scott Newman, FAIA, leads the cultural practice at Cooper Robertson. He has nearly 40 years of experience in the planning and design of complex museums, and was partner-in-charge of the new Whitney Museum of American Art. Newman can be reached via e-mail at snewman@cooperrobertson.com[10].
Endnotes:
[Image]: https://www.constructionspecifier.com/wp-content/uploads/2017/03/museum_2_E_Gallery_Horizontal-e1490726810476.jpg
[Image]: https://www.constructionspecifier.com/wp-content/uploads/2017/03/museum_1_A_Whitney_Gallery.jpg
[Image]: https://www.constructionspecifier.com/wp-content/uploads/2017/03/museum_1_B_Gallery_Shade_Detail.jpg
[Image]: https://www.constructionspecifier.com/wp-content/uploads/2017/03/museum_1_C_Daylight_Studies.jpg
here: http://www.researchgate.net/publication/287207152_Demonstration_Assessment_of_Light-Emitting_Diodes_LED_Retrofit_Lamps_Host_Site_J_Paul_Getty_Museum_Malibu_California
[Image]: https://www.constructionspecifier.com/wp-content/uploads/2017/03/museum_3_A_LED_Gallery.jpg
[Image]: https://www.constructionspecifier.com/wp-content/uploads/2017/03/museum_3_B_LED_Staircase.jpg
[Image]: https://www.constructionspecifier.com/wp-content/uploads/2017/03/museum_2_B_Clerestory_Mockup.jpg
[Image]: https://www.constructionspecifier.com/wp-content/uploads/2017/03/museum_2_A_Clerestory_Section.jpg
snewman@cooperrobertson.com: mailto:snewman@cooperrobertson.com
Source URL: https://www.constructionspecifier.com/new-developments-in-museum-lighting-design/
---